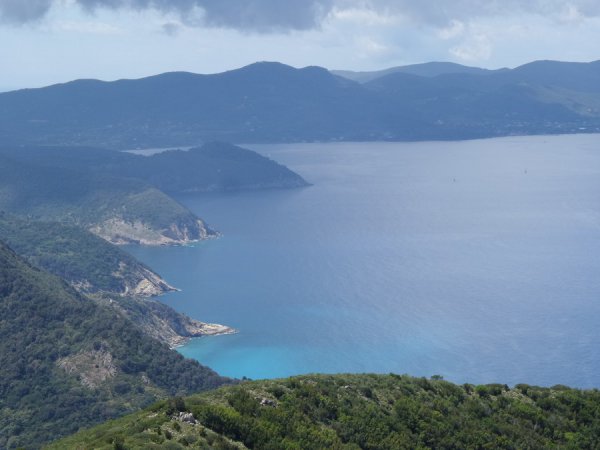 A worthy conclusion of the Great Crossing. The fourth stage concatenates a series of reliefs in the north-eastern area of the island, allowing the eye to watch on opposite sides. The landscape is still hilly, and vegetation abounds in rosemary and myrtle, which perfume the air.
The tour reaches Cavo, with its beautiful sea promenade and its pretty harbor. From there, the mainland coast is easily visible, with Piombino in the foreground.
In some places you must be careful not to take paths with white-red marks that deviate from the trail, heading to the various coves of the seashore.
---
Trail
You climb up across Rio nell'Elba. It is worthwile visiting the old washhouse: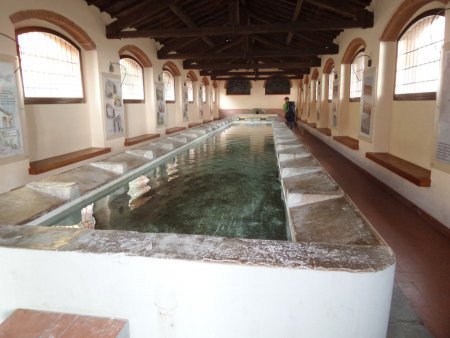 You cross the village with no set course, exploring its picturesque alleyways: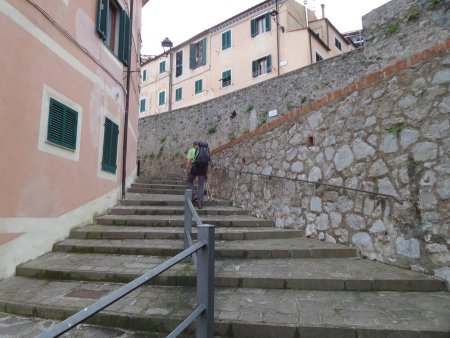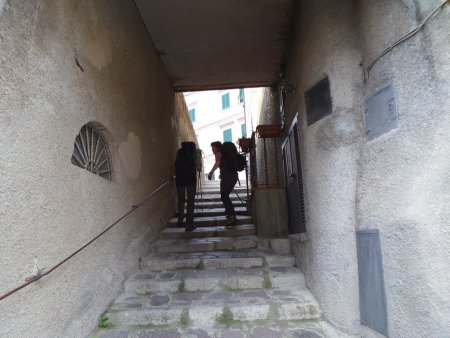 You exit the village and get back to Route 32, where you turn right taking the path of the great elban trekking: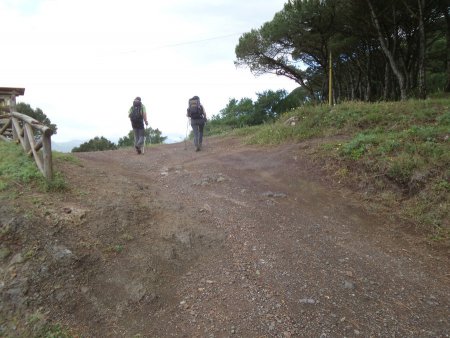 You walk along the path, on a very modest slope: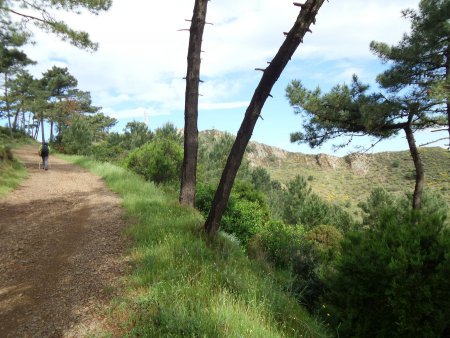 So you reach the ridge, along wich you climb up to a first summit: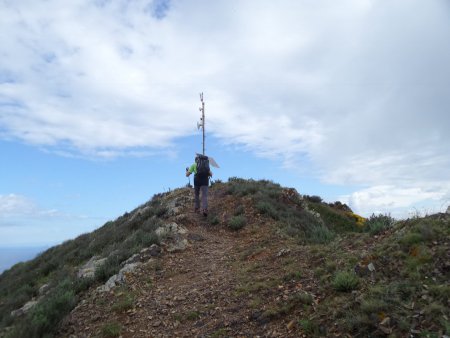 Then you go slightly down for a while, and subsequently go up again, to reach a second summit: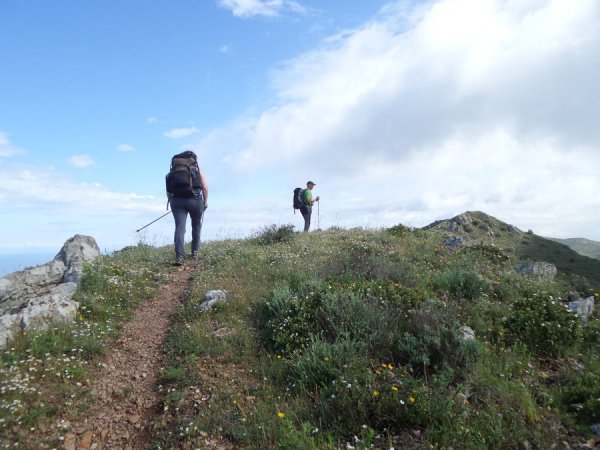 You can enjoy wondeful views, especially to the left, on the several bays that dot the coast, as the Baia di Nisporto: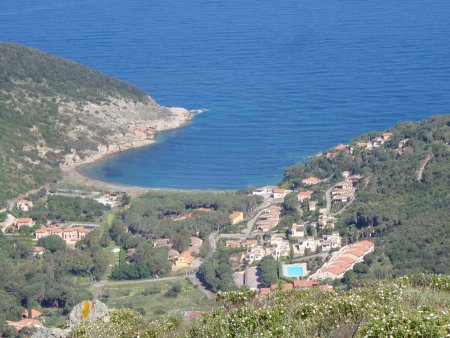 You go down a little, then up again, to the summit of Monte Strega, 427 m: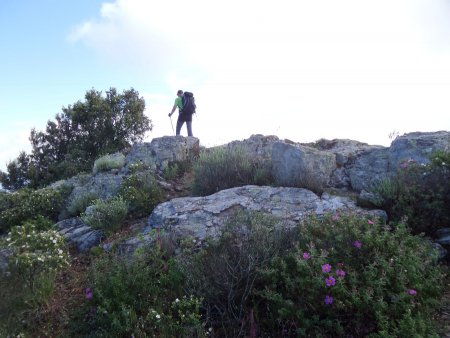 Then you go down again, until you reach and cross a road: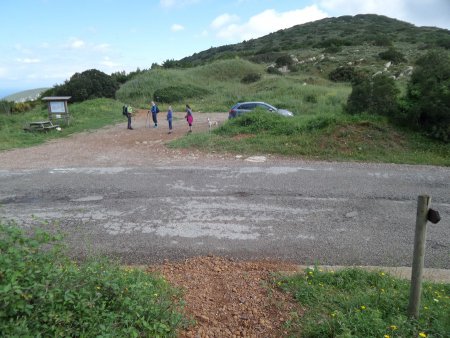 You continue for a long stretch, on no or little slopes. At a junction, which would lead to the right on Route 33, you continue along the trail. At a telephone pole you follow the path, which makes a sharp turn to the right, and shortly after you reach Route 33, near a tight curve.
You shall NOT take the first path to the left; instead, you walk a short distance on the road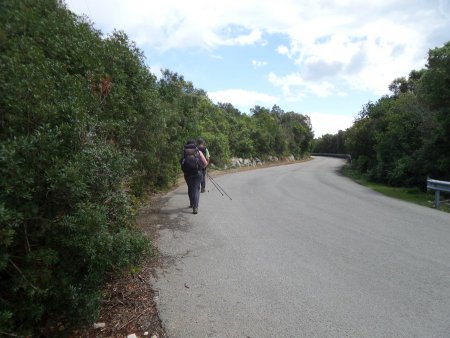 and turn left on a second trail, also heading to the left: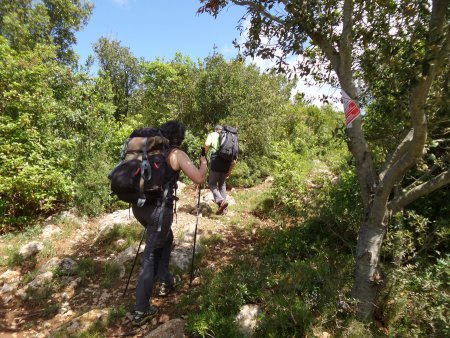 You climb on a fair slope up to a saddle, then head uphill: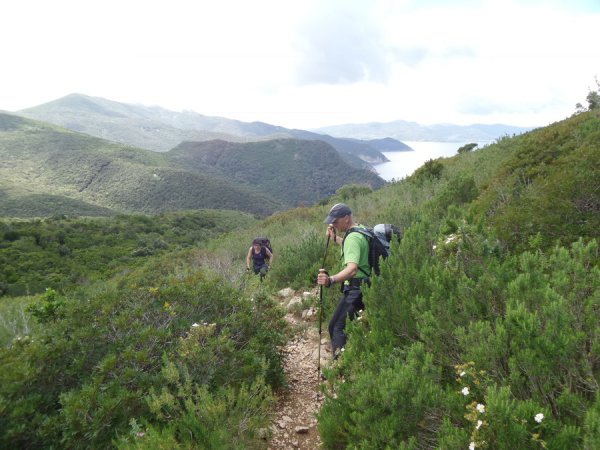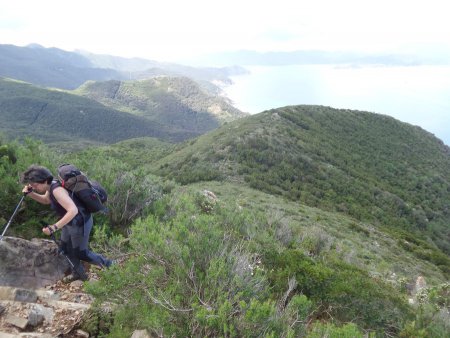 So you reach Monte Grosso, 346 m: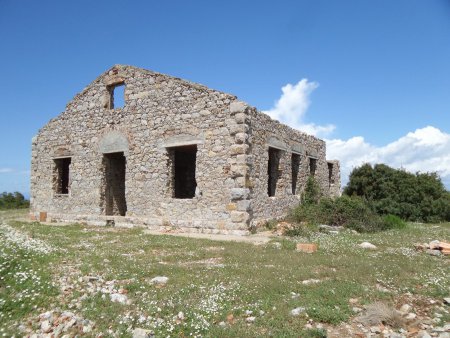 And very shortly after, the Semaforo, a warpost used during the second World War: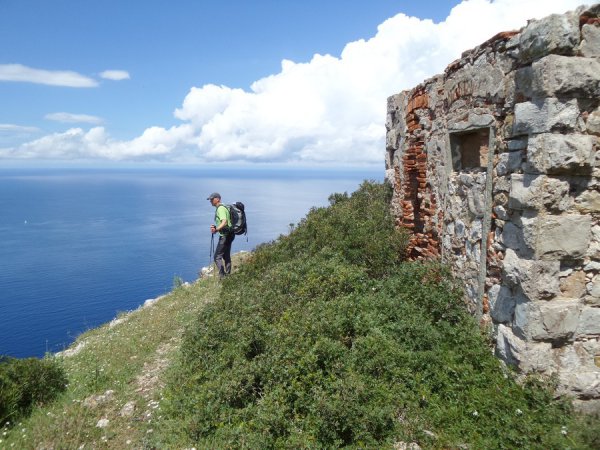 The view is breathtaking: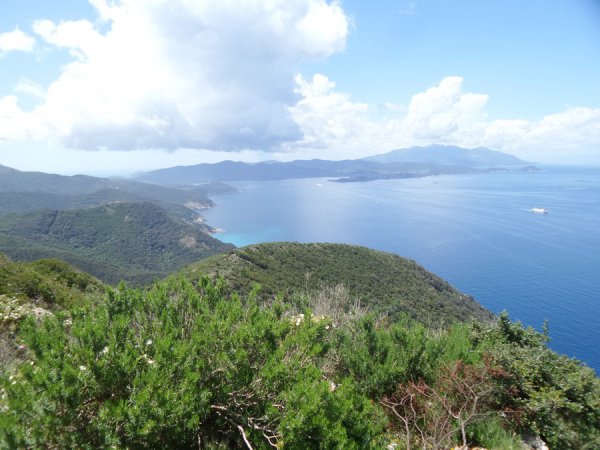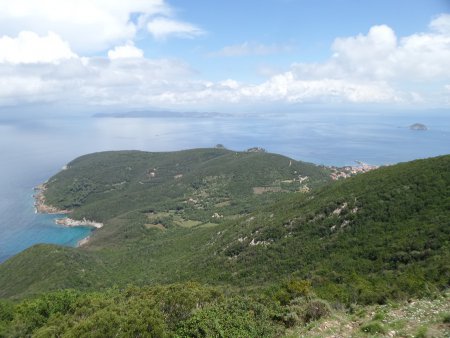 Then you go down on a comfortable trail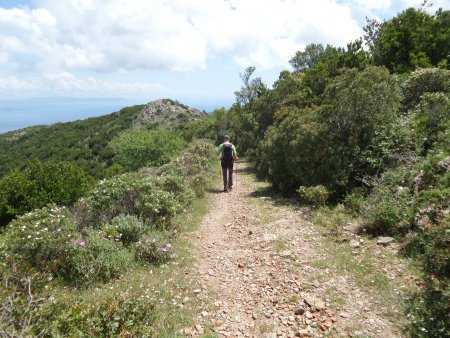 up to a fork, where you turn left: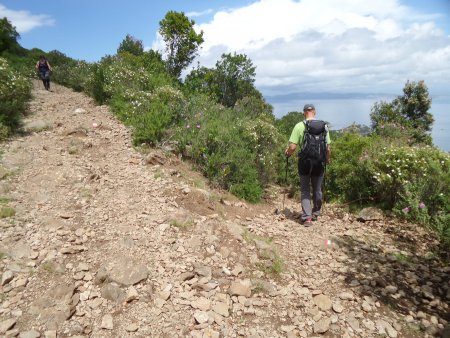 You go down, following the zig-zags of the trail, on a modest slope, until you reach the intersection with Via Solana Alta.
If you now want to shorten the route, you can take this road, in either direction, to go down in the most direct way to Cavo (see the darker track on the map).
Otherwise, with a lot of patience, you can continue along the official route of the great trekking: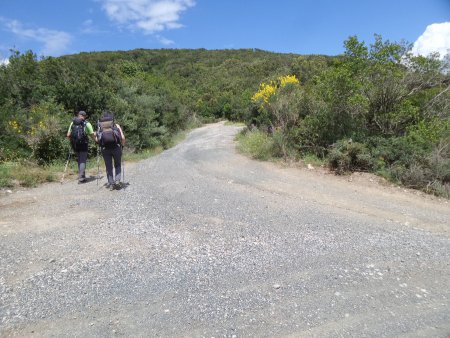 The narrow road, partly paved, first goes up, then descends, turning to the left.
You shall pay attention, at a crossroads with directions, not to continue along the road, but to turn right, with an initial steep step, and enter the forest: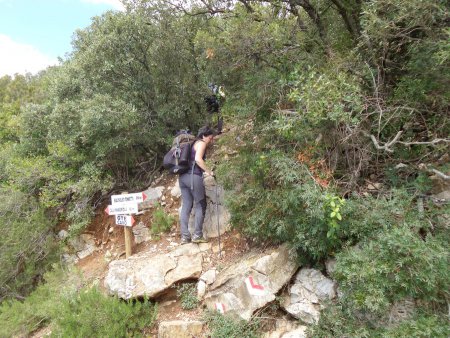 The trail goes up for a short distance in the woods, then becomes more flat and wide: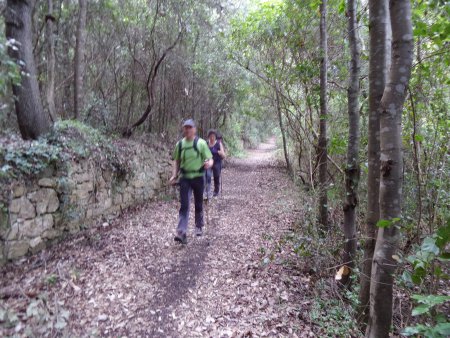 You reach a fork with signs to the Tonietti Mausoleum. Although it is not a work of great monumental value, it is worth making a few tens of meters to reach it: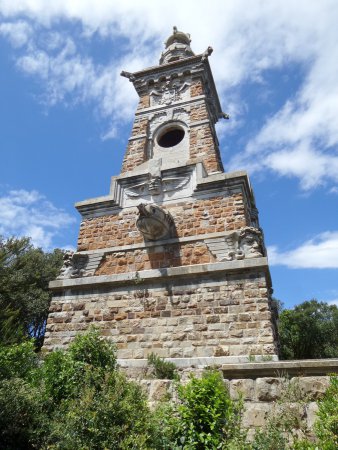 Then you go back to the fork, and walk along the winding path, almost always in the woods, for several kilometers: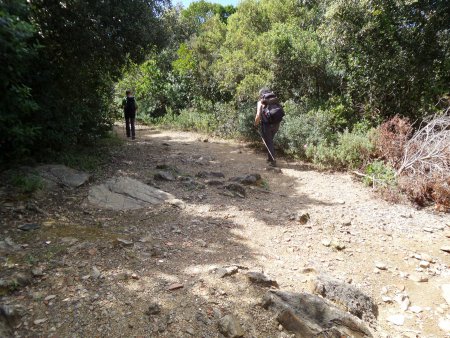 At last, you begin going down, and shortly after you can see the sea and Capo Castello: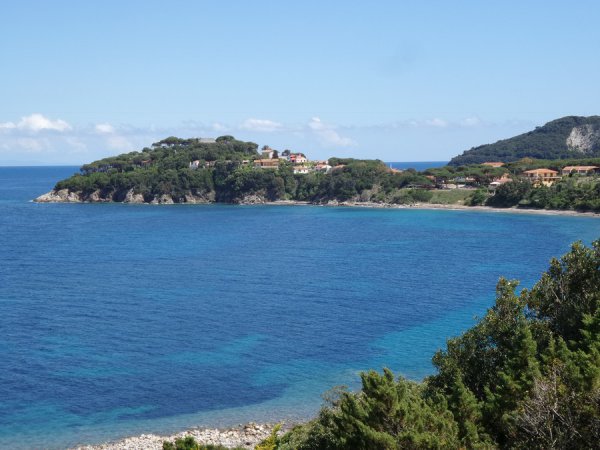 Shortly after, you reach Cavo: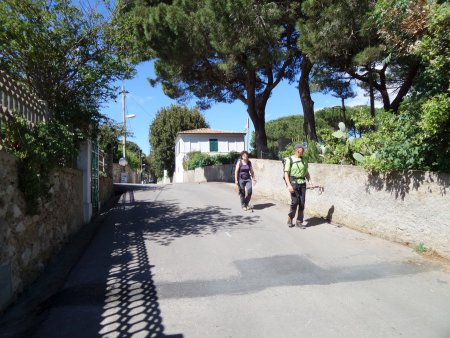 You walk along the beautiful promenade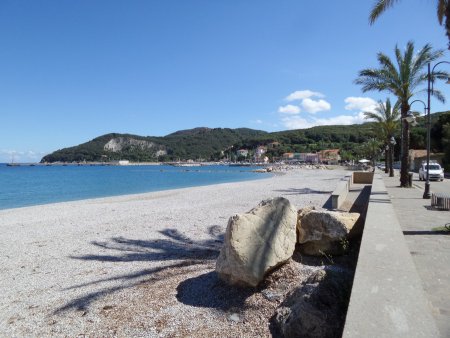 and then reach you destination: