PASSO SANTNER
and Rifugio Santner, by Ferrata Santner, from Rifugio Fronza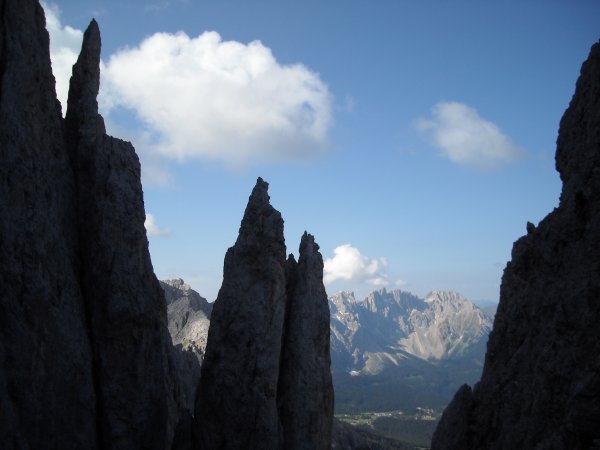 Classic and beautiful ferrata that leads to Passo Santner, from which you can admire one of the most characteristic views of the Dolomites, the Vajolet Towers.
The ferrata, of medium difficulty, is protected with lanyards and a ladder, but only where it is actually more difficult or exposed. On the remaining sections one has to climb up rocks of grade I, and some steps of II.
Author's Note: I thank Flavio and Armando, who have shared this journey with me, and who appear in several photographs.
---
Access
From near the Karerpass / Passo di Costalunga or from Val di Tires you can reach Location Frommeralm, where there is a large parking and the valley station of the chairlift to Rifugio Fronza.
---
Approach
From Rifugio Fronza, following the signs for the ferrata, you climb up a first stretch of rocks with cables, on which you rise on the rocky structure upstream of the refuge: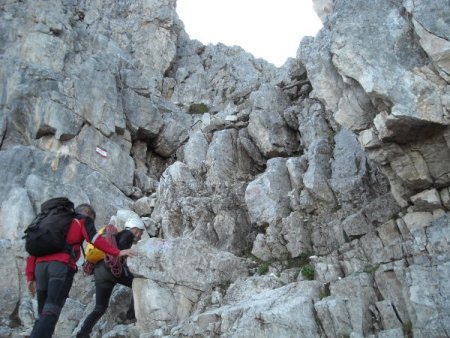 At its top, go left along the path that goes towards the ferrata, with ups and downs: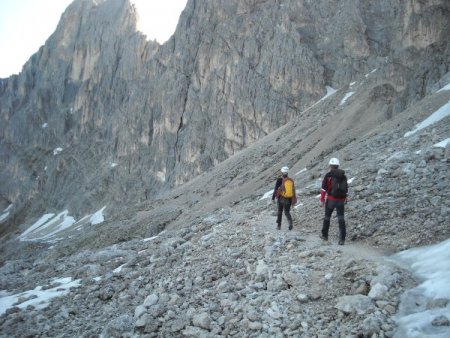 When approaching the ferrata, you start to climb on easy rocks, unprotected: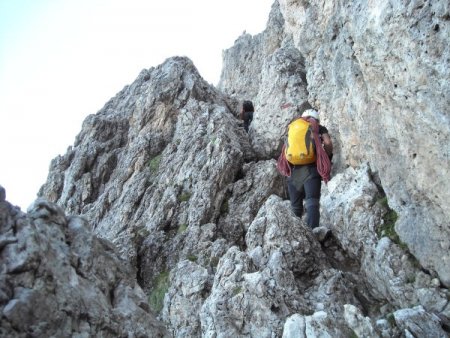 ---
Ferrata
After the start of the ferrata (plate dedicated to Nino Ferrari), you find alternate sections of unprotected rocks, cables, and a ladder: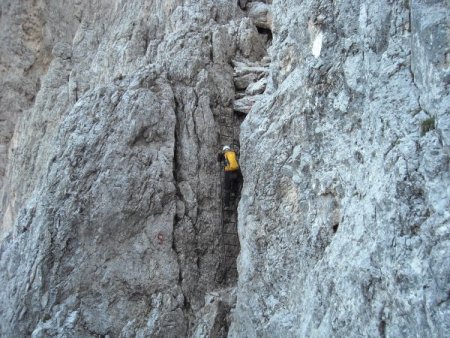 The ferrata winds out in this way for a fairly long stretch. After a descent, you have to cross a gully, typically occupied by a snowpatch: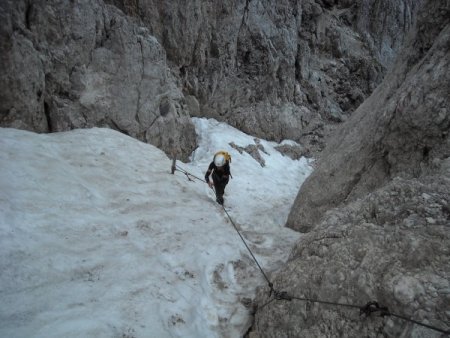 You climb up some more rocks equipped with a cable, until you emerge at Passo Santner, from where will quickly reach the refuge of the same name: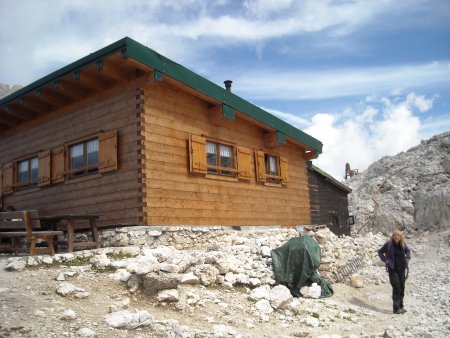 You can enjoy excellent views towards the Latemar, and to the west, in the direction of Bozen / Bolzano, and also the view over the valley leading down to the Rifugio Re Alberto, and the Vajolet Towers: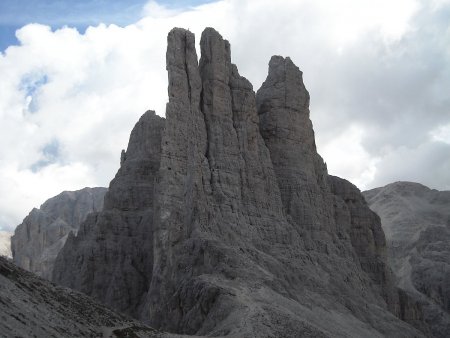 ---
Return
The return can be done by the same route.
Another frequently used return route involves the descent to the Rifugio Re Alberto, then the Refuge Vajolet, the crossing and ascent towards the Passo delle Coronelle, and return to the Refuge Fronza (path not shown on the map).