CIMA TOSA
by Via Normale, from Rifugio Pedrotti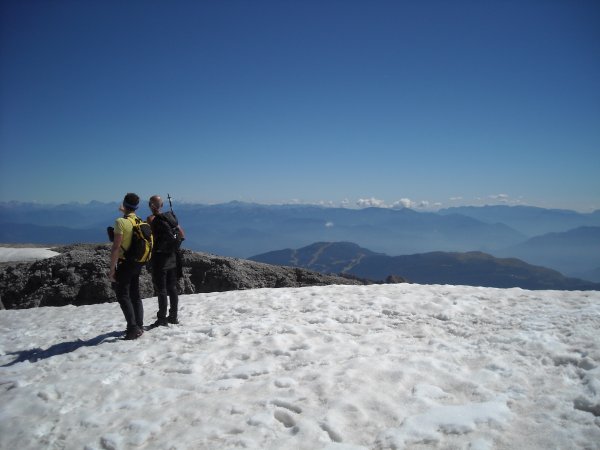 Cima Tosa, the highest elevation of the Brenta Dolomites, offers really outstanding views, if you have the opportunity to climb in a day of favorable weather.
The Normal Route is the classic route of ascent, and also the descent for the other routes. It is quite frequented, and the part of rock where the climbing occurs is quite smooth because of the frequent passage.
The normal climbing equipment is recommended.
---
Approach
From Rifugio Pedrotti, take the path 358 and follow it for a long stretch, at first going around and along Cima Brenta Bassa, then along Cima Margherita, and finally crossing uphill along the base scree of Cima Tosa, up to a point below the south-east wall: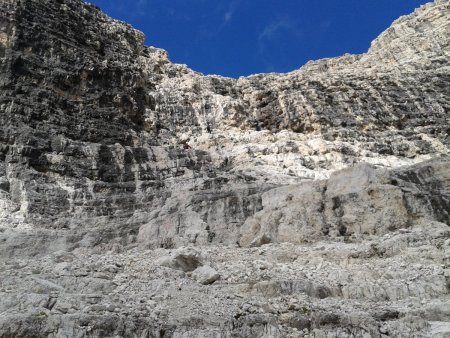 Here you leave the trail and climb up along tracks and easy rocks, aiming to the left blackish chimney.
---
Route
Climb up, paying attention to the smooth rock (and often wet), of grade II. Alternatively, you can climb on the slab, typically dry, slightly to the right, a bit more difficult (up to III). There are nails to protect yourself, but you should have other material for quick protections. There are nails for a stop at the top of the wall. After 25 m of climb, you have completed this stretch of climbing.
Thus you find an amphitheater, which you climb up easily, following tracks and cairns, reaching yet another amphitheater: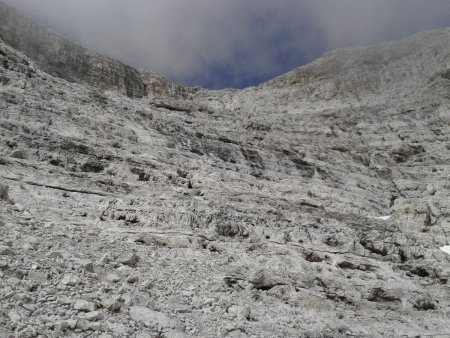 You climb up this too, still following tracks and cairns, until you reach the large terrace at the summit. From there, you head west, following the numerous and clearly visible cairns. You pass by the exit of the Canalone Neri, an impressive gully, and soon you reach the summit.
The view stretches as far as the eye can see in all directions, and includes both the surrounding peaks of the group, and many other mountain ranges. Spectacular is the view in the direction of Carè Alto: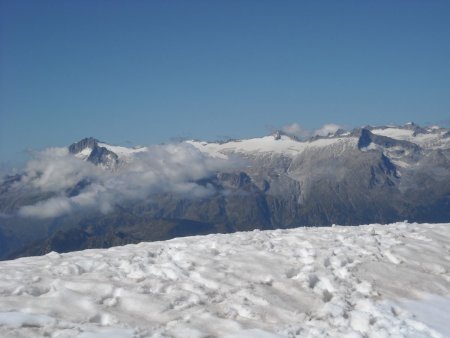 And in the direction of the Presanella too: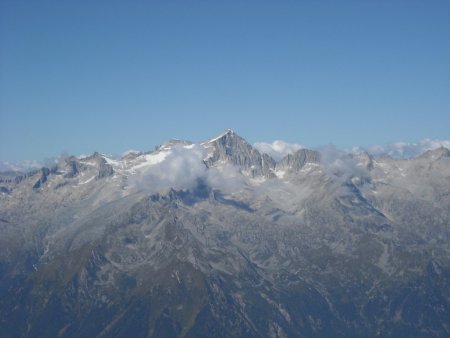 ---
Return
Same trail, with a couple of double ropes at the wall you used to climb up.