BECCO DI FILADONNA
Cima Vigolana and shelter, from Rifugio Paludei
From Rifugio Paludei it is possible, climbing a significant altitude, to reach the bivouac Vigolana and the Pinnacle of the Madonnina, and then the major elevations of the group.
The hike requires a good deal of effort, but is rewarding, especially for the scenarios and views that can be seen from the most elevated points, which are remarkable in all directions: Piccole Dolomiti, Monte Baldo, Monte Stivo, Bondone, Paganella, Dolomites of Brenta, Val d 'Adige, Marzola, Lake Caldonazzo, Lagorai, Valsugana, Ortigara.
Author's Note: I thank my friends Angelo and Mila, who shared with me this trip and who appear in some photographs.
---
Route
From Rifugio Paludei, walk towards the south-west, following the signs to the bivouac Vigolana (do not follow those for the Refuge Madonnina). Following the trail, you first go up for a good stretch in the woods: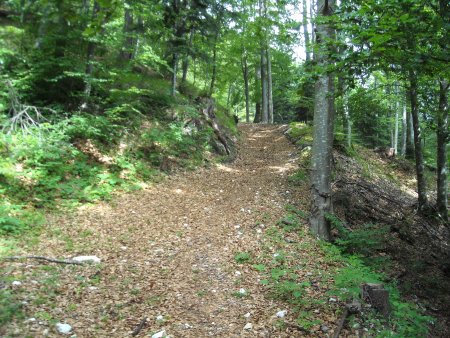 Then the trail begins to climb more and more decisely, following from a certain point onwards, the direction of a gully, which is initially narrow:
then wider, with some equipped stretch:
By continuing to climb, you eventually reach the junction with trail 425, where you turn right, to quickly reach the bivouac:
The location of the bivouac is a great vantage point. Here is a view of Lake Caldonazzo and surrounding areas: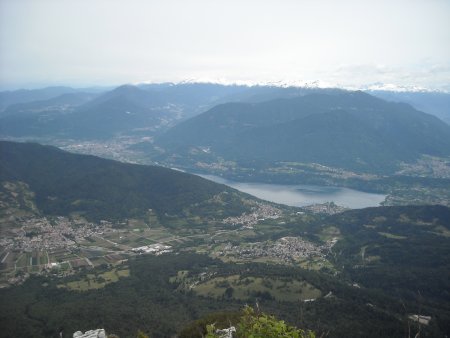 Taking back path 425 to the east, going on a ledge under sections of vertical walls, you will reach the crest, and junction with trail 450, where you turn right towards Cima Vigolana, which you will reach after traveling some ups and downs on minor summits:
From here the view embraces the whole horizon. But you can also enjoy a spectacular view on the Becco di Filadonna:
Going back, you can then proceed towards the east, in the direction of the Becco di Filadonna. At his feet, is a fork. Going straight up, you can directly reach the summit, while taking left you will head towards the cross, which is located on a spur, slightly lower:
Even from the cross, with a few steps on the rocks, you can reach the summit.
The view is exceptional in all directions. Here is, for example, a view to the north-west, with Val d'Adige, the Marzola, the Paganella and the Dolomites of Brenta: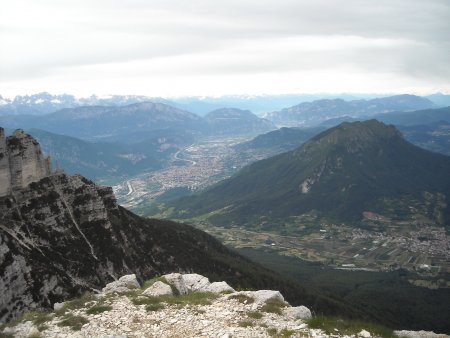 ---
Return
Same trail.
As an aternative, you can take path 442, that leads down to the Refuge Casarota. From there, along path 432, you can go down to the Refuge Paludei.