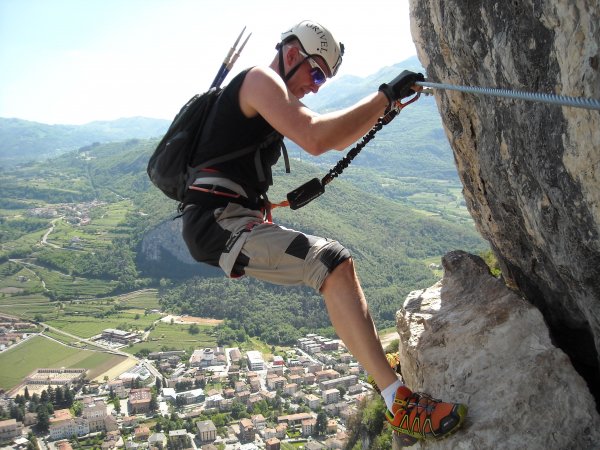 This via ferrata has been completely renovated and made safe at the beginning of 2014. It is now slightly easier from a technical point of view, especially for the many added brackets. Nevertheless, it remains one of the most challenging and exposed vie ferrate of Trentino; the exit section, by the way, has been moved, and climbs now a slightly overhanging wall, instead of going up a ramp, as it used to.
---
Access
You can reach Mori from the Rovereto Sud exit of the A22, then along the SP90; aternatively, you can reach it along the SS240. There is a small parking lot at the intersection of Via Roma and Largo Villanuova.
---
Approach
You go through Largo Villanuova to the west, up to the junction with indication for the ferrata, where you turn right, uphill: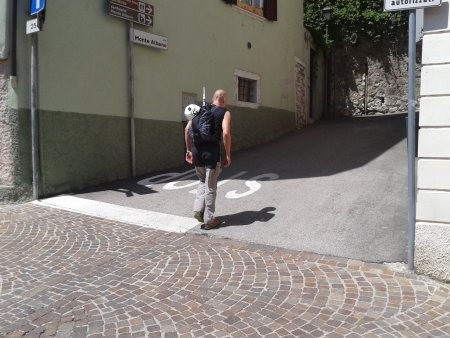 You go up along a narrow road:
So you reach the church of Monte Albano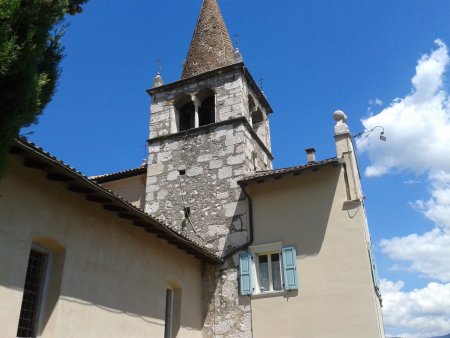 near which there is a wide meadow and a "boulder" area.
You take the trail to the north and follow it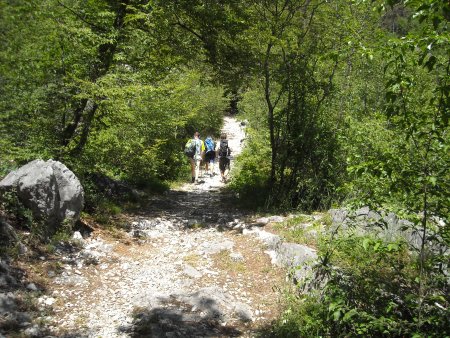 until you reach the starting point of the via ferrata: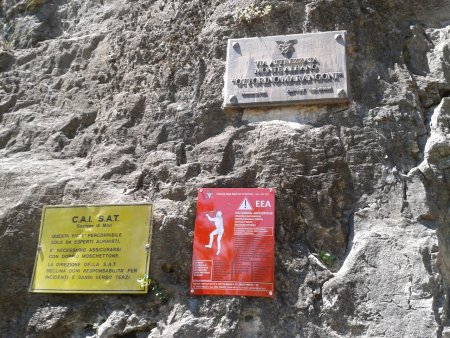 ---
Ferrata
After an initial few meters, which seem to be designed on purpose, to discourage unexperienced hikers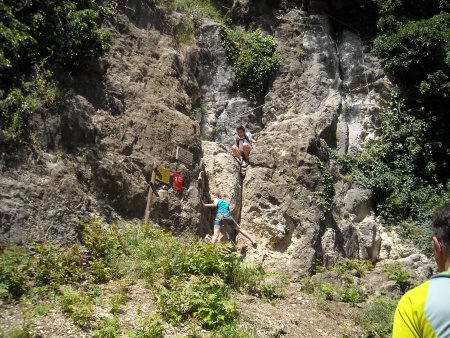 the route is challenging right from the beginning, on highly smooth and slippery rock. The abundance of brackets mitigates to some extent the difficulty: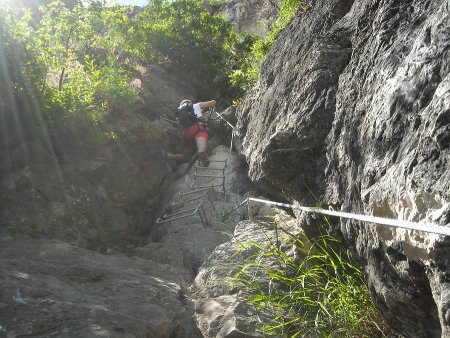 You quickly reach a ledge from where you can possibly take advantage of an emergency return path. If you want to go on, however, you will first face a short vertical wall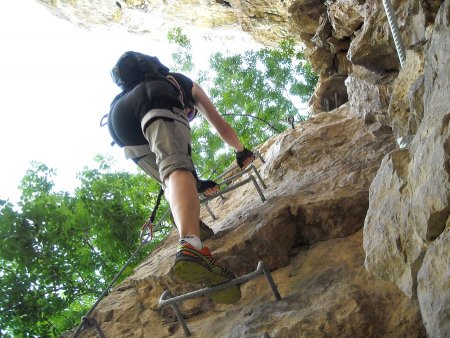 then a challenging crossing to the right: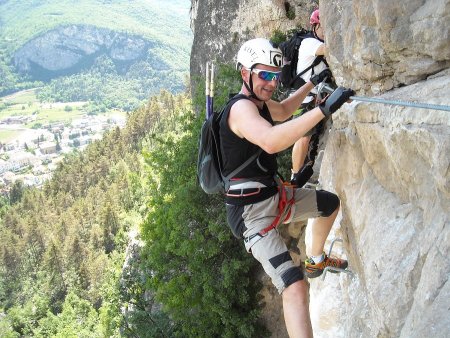 At its end, you climb up a long vertical dihedral: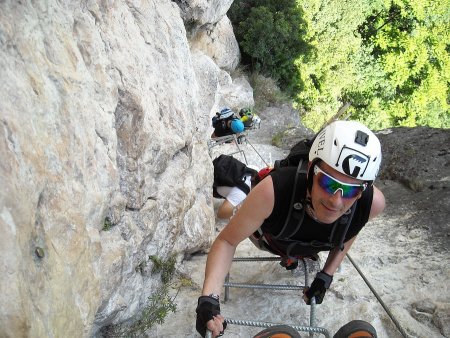 at the end of which, after a short ledge, you find an exposed crossing to the left: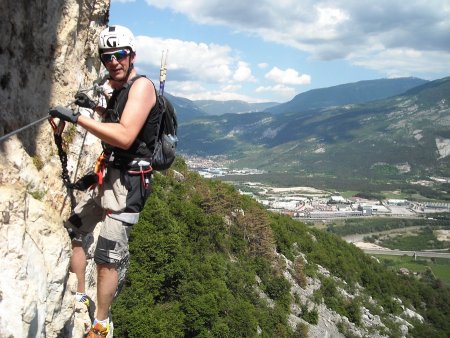 Another, shorter dihedral follows: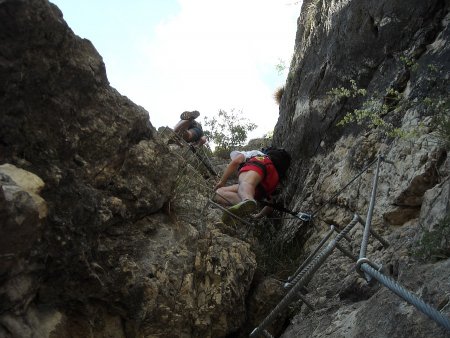 then a ledge to the left, narrow at first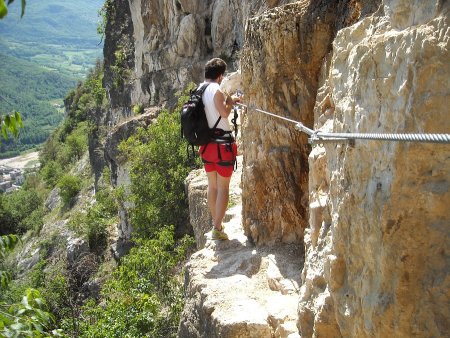 then wide and easy. Then you climb up a wall: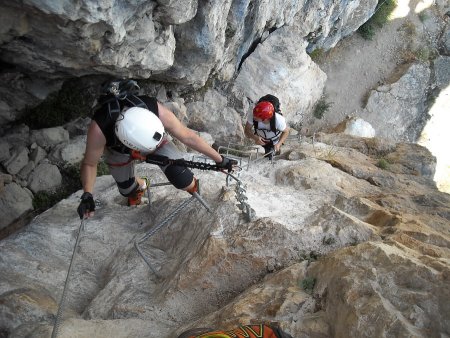 at the end of which you cross again to the left, to face a very exposed passage: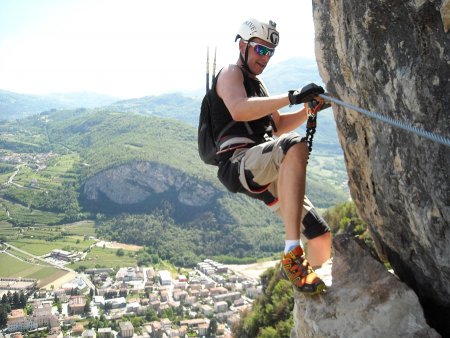 after which there is a narrow ledge, leading to the route book: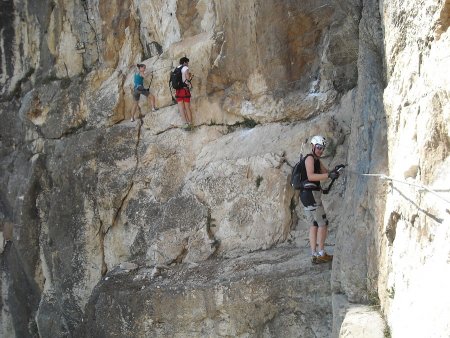 From there, with some overhanging step, starts a new, long vertical dihedral: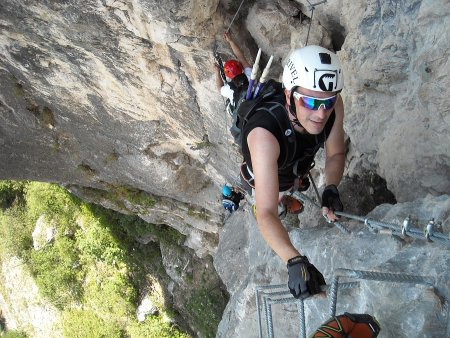 at the end of which you can spot the old exit, on a ramp, now dismantled, but for some residual equipment: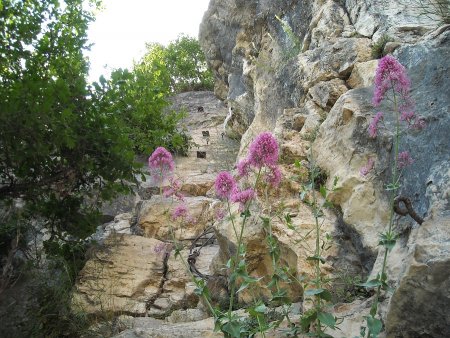 The new exit section, instead, climbs up a slightly overhanging wall, right above you: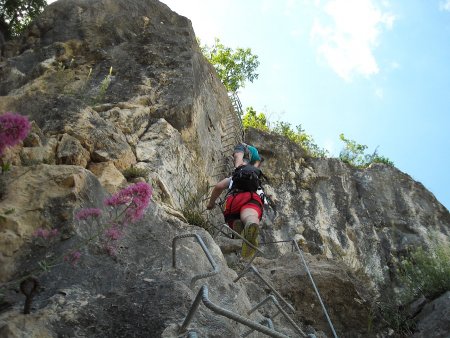 With this last effort for your arms, you reach the end point of the ferrata: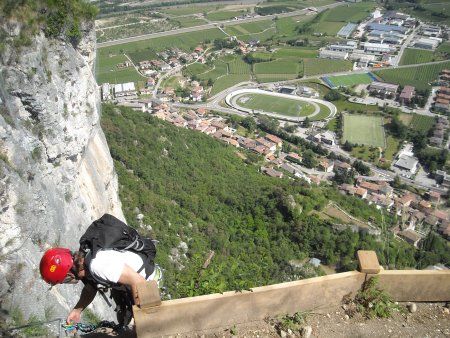 ---
Return
You take the trail to the north, that includes a wooden staircase: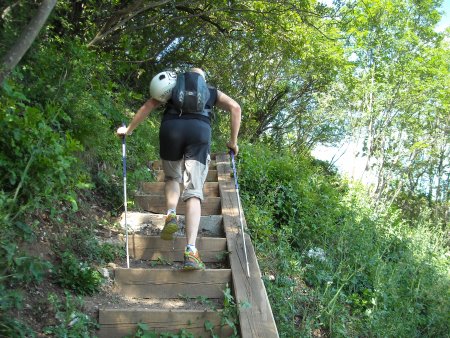 Shortly after you turn left, then straight south at the next junction, then left to the next, gradually beginning to walk down along a narrow path, without difficulty: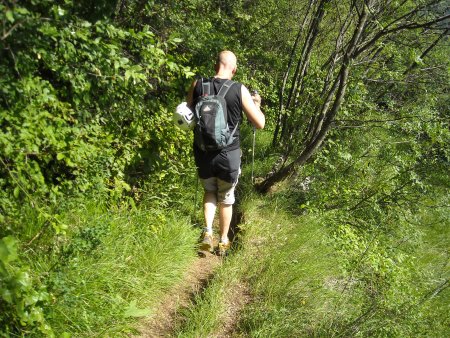 You will finally rejoin the approach trail, not much above the church, and from there continue back along the path forward.