RIFUGIO DON ZIO
Monte Casale, from Comano Terme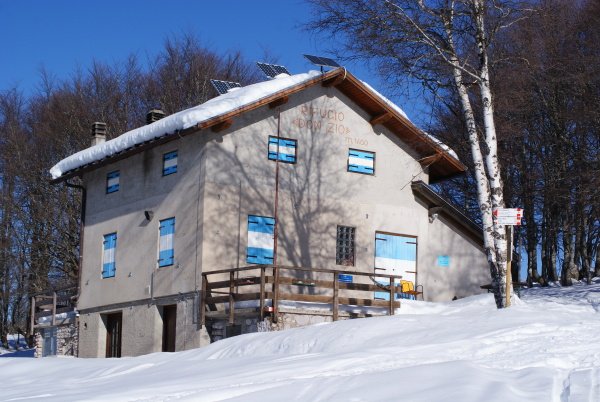 Easy hike to Refuge Don Zio, 1600 m, which is located on the western side of Monte Casale, 1632m.
A worthy goal indeed for the particularly favorable position, and the remarkable views that can be admired.
The shelter is run by volunteers, inquire about opening days.
---
Access
From Trento, take the road that leads to Ponte Arche, from where you continue to the village of Comano. Once in Comano near the church you can see the signs that indicate the direction for Monte Casale. There are about 3 km of paved road, then you will get to a parking lot where there are antennas, and a sign of banned driving.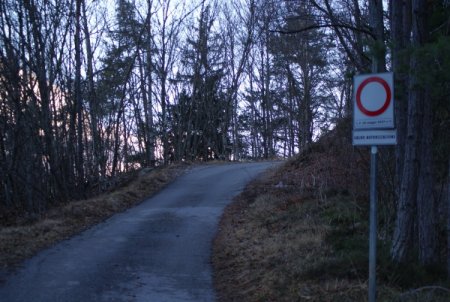 You may purchase a permit at the hotel Panorama Comano, with which you can go further by car, arriving at a parking lot that is located about 15-20 minutes on foot from the refuge.
---
Route
From the parking lot, after a short stretch of paved road, you continue along a path through the forest: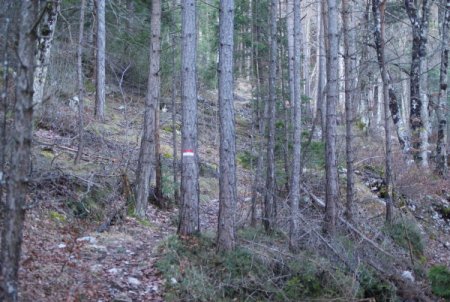 After about 5-10 minutes, on the right you see a red and white sign on the trunk of a tree; this is the first diversion you come across that allows you to leave the forest road going up along a woodland path, and then rejoin the road, to divert again to the wooded trail. The climb is not difficult on the forest path, but if you want you can continue along the forest road.
You arrive at Le Quadre, 1481 m, where there is also a parking.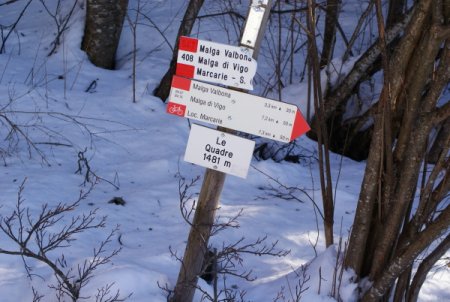 After about 5 minutes, the wooded section comes to an end and you continue on a prairie; from there it takes about 15-20 minutes to get to the shelter. After getting to the shelter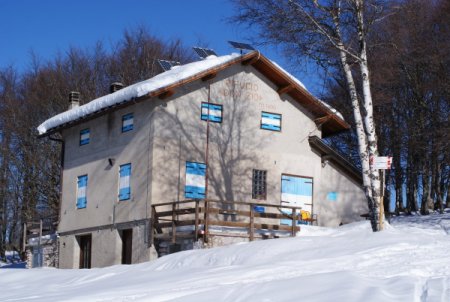 in about 10 minutes, going up a grassy slope (in this my trip covered with snow), you arrive at the top of Monte Casale where there is the summit cross, which is a great vantage point, and a pillar where you can read the names of the peaks that can be seen all around.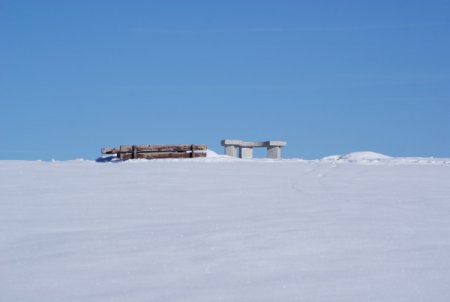 You can enjoy a 360° view of the mountain ranges of Trentino, due to the favorable location of Monte Casale: Adamello - Brenta - Lagorai - Pale di San Martino - Ortles - Pasubio - Piccole Dolomiti - Bondone - Monte Baldo - Alpi Landresi - Lago di Garda - Lago di Toblino and Santa Massenza - Lago di Cavedine - Lago di Molveno and surrounding valleys, Valle dei Laghi - Val di Cavedine - Valle del Sarca.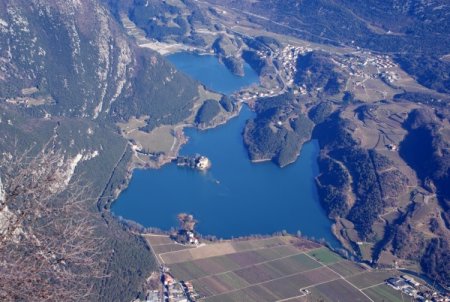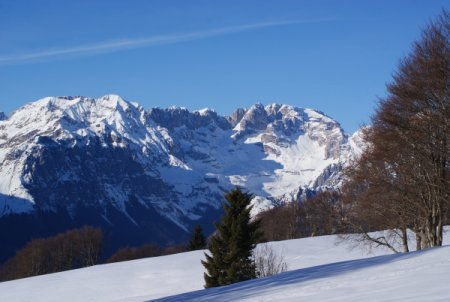 ---
Return
You go back along the path forward, with a possible diversion on the forest road, for about 15 more minutes, then continue along the wooded trail to the parking lot.