Some notes for beginners
This article is dedicated especially (though not only) to those who are beginners or intrigued by ski-alpinism.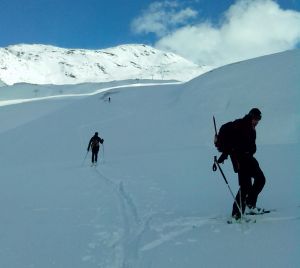 The tours presented on this site also include challenging ones, but with precise indications about orientation and the presence of difficulties. All those who intend to approach this activity shall remember that there are introductory and upper level courses generally organized by various alpine clubs. Alternatively, it is strongly advisable to start making trips in the company of experienced and cautious companions.
In ski-alpinism the additional variable, compared to the ordinary rules of prudence that shall be obverved in the mountains, is an assessment of snow conditions. So-called "safe" trips can become dangerous, in relation to the risk of avalanches. Knowing how to understand the snowpack in conditions of medium or high risk requires particular expertise.
Many sites (AINEVA in Italy, SLF in Switzerland, etc.), in the winter season, provide bulletins, sometimes updated several times a day, to be consulted before the trip, as an integral part of the preparation for it. Performing trips in the company of more experienced people or on popular routes can affect the charm of your tour, but allows you to learn and deal with the problems that you may happen to face, in a context of general solidarity (among alpine skiers).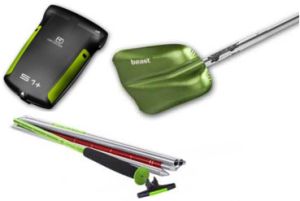 Artva, shovel and probe are an absolute must (in some regions there is even a legal obligation, and possible sanctions if you are not equipped). Their use and some tests in the company of experienced friends can provide a first elementary knowledge about them. Ideally, you should never put yourself in the condition to actually need to use them.
The electronic media that are provided on this site (GPS tracks, POIs, photos) shall never replace a map and the ability to orient it, especially on unknown routes.
If you are a beginner, it is strongly advisable to prefer good and safe weather: this will facilitate the success of the ride, and will allow to better enjoy the nature and the environment.