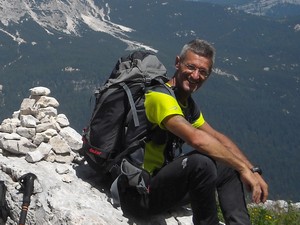 He was fond of trekking, alpinism and ski-alp, you could find him very often in the mountains of Triveneto, but also more to the west, to climb the highest peaks in the Western Alps.
It was not unusual to see him across the border, in the nearby mountains of Switzerland or Austria, but also in the far north of Europe, for some long and lonely adventure.
Either alone, or with his wife or friends, but always carrying a good camera with him, to capture and preserve the best moments of his journeys.
Sadly, he has left us in August 2018, due to a fatal accident on the Sella Group. We will miss him very much, both as a friend and a climbing partner.
---
On trekking-etc