A superb stage, starting from a lovely village, Pomonte, reaching the highest elevation of the island, Monte Capanne, 1018 meters, and ending in another picturesque sea village, Procchio.
The view is wide and spectacular, if the weather is not foggy and the top is not clouded. The path is surrounded by an enchanting environment and a wonderful vegetation.
This is certainly the most challenging stage of this journey, both for the elevation gain, and the rough path in some parts of the trail. Who has no practice on equipped trails can avoid the stretch that leads to the summit, and just cross the ridge at the pass named Le Filicaie.
---
Approach
You can reach Pomonte by car of by bus, from Portoferraio (around 40 minutes in the latter case).
---
Way up
At Pomonte, you take Via del Passatoio, heading east. You cross a little bridge: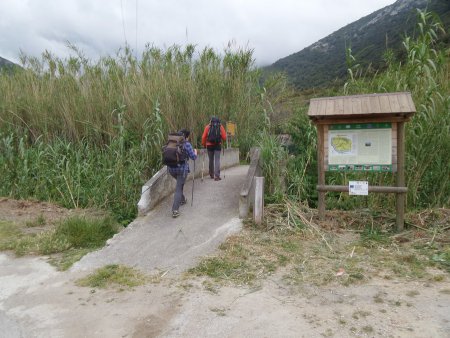 You continue along the path, slightly uphill: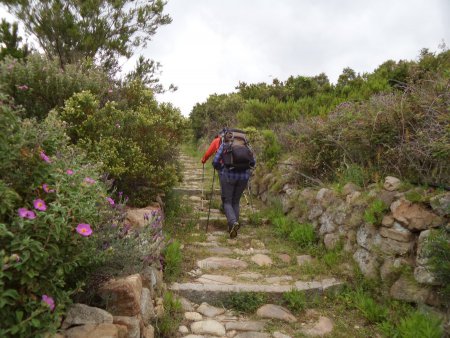 After half an hour you come to a crossroads with a clear indication for the GTE path 31, where you turn right, uphill: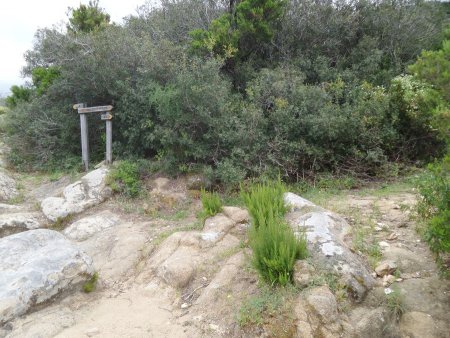 You continue on a steeper terrain: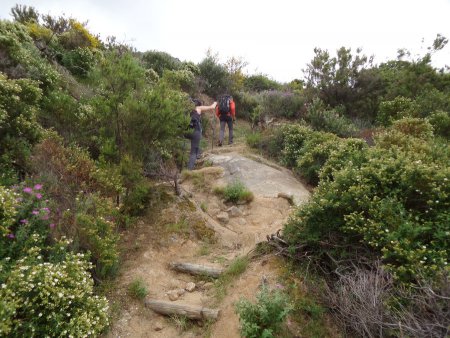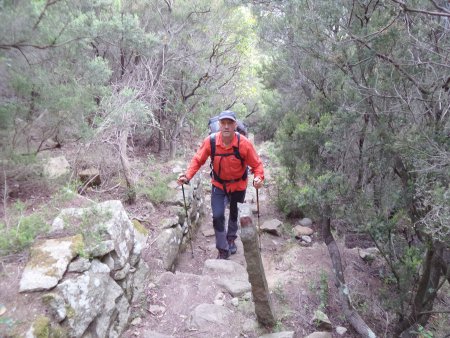 The vegetation, in the first half of May, is full of flowering species, including the Broom, the Cistus albidus, and the Wild lavender.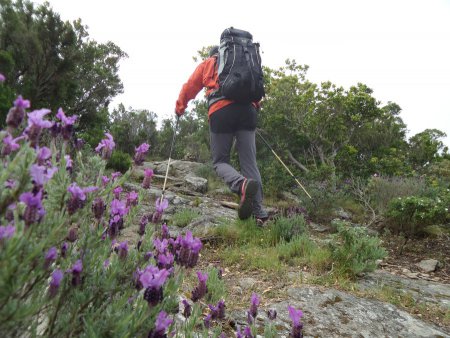 So you reach the ridge that delimits, on the left bank (right going up), the Valley of Pomonte.
The opposite side of the valley is bordered by another ridge, dominated by Monte San Bartolomeo, 437 m: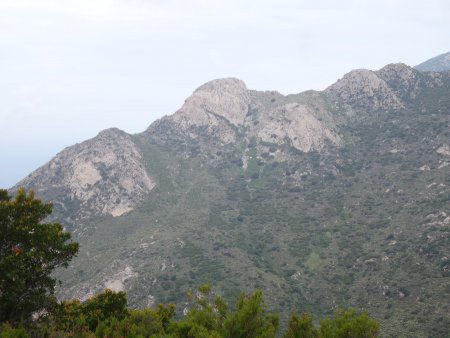 The path goes round the first relief, Monte Schiappone, 428 m, and proceeds along the ridge on less steep slopes, then reaching and overcoming a number of other little reliefs: Monte Orlando, 546 m, Monte Cenno, 592 m, Colle della Grottaccia, 647 m: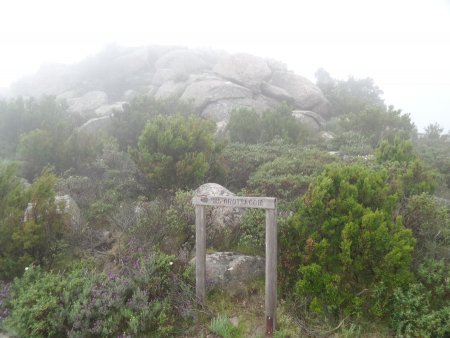 In some places there are stone shelters:
You continue for a long stretch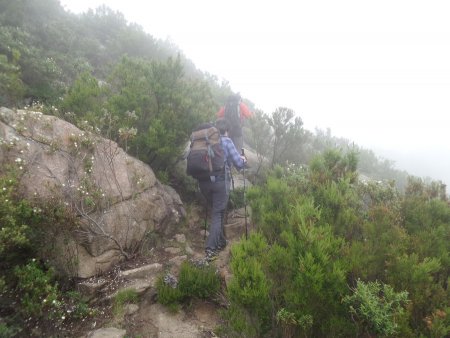 with a few very brief descents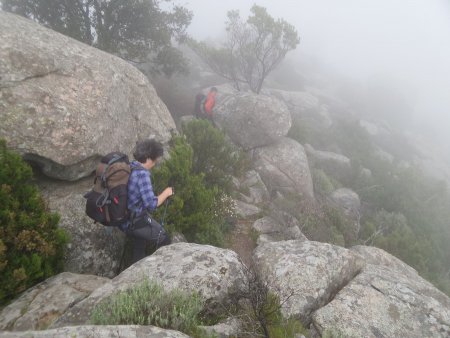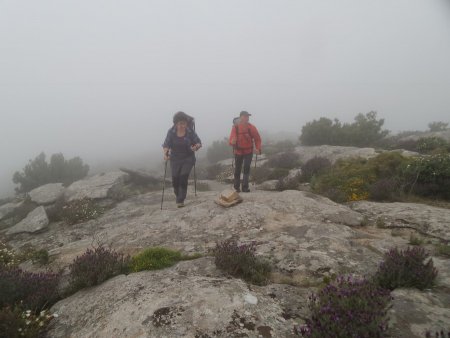 until you reach the saddle between Monte Capanne and Le Calanche, called Le Filicaie, 870 m: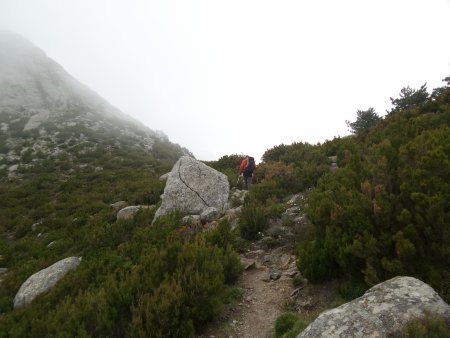 Across the whole ridge you avoid taking side paths and always go straight on. Only just before the Monte Cenno you shall pay attention, at a crossroads, to take the left direction.
From Le Filicaie, turning left, you can climb to Monte Capanne.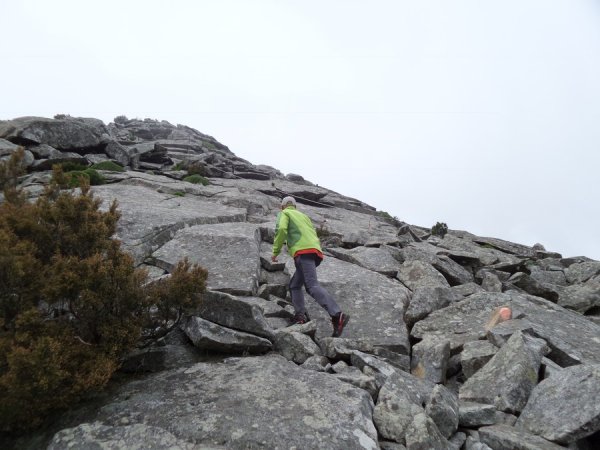 The trail, going up on rocky slabs and granitoid boulders, has some parts equipped with cables, and climbs steeply: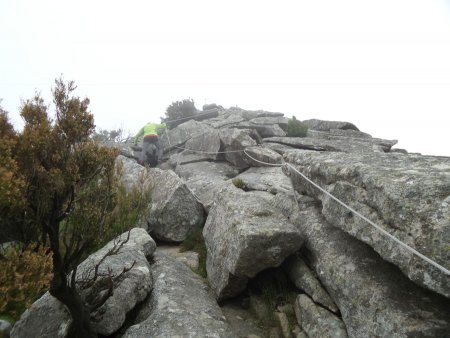 Then you cross a stretch of almost horizontal ridge: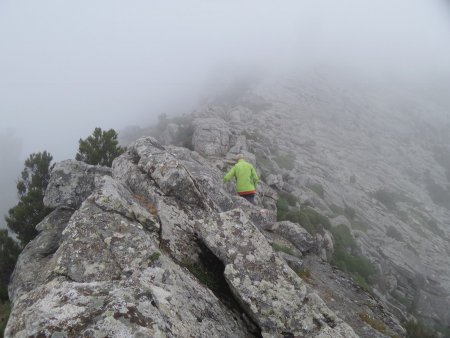 Then the trail climbs up steeply again towards the summit, where you find a tall telecommunication pylon: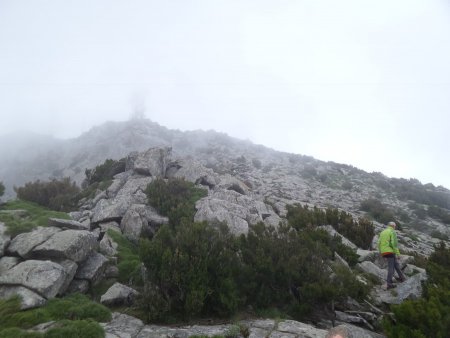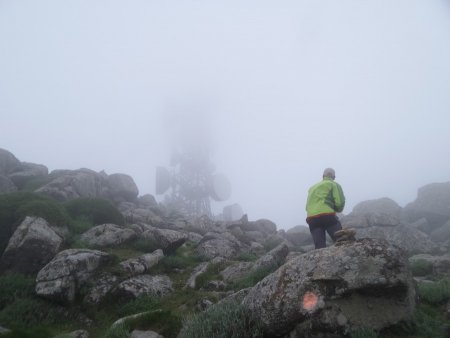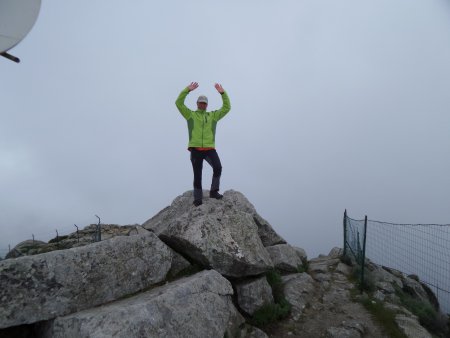 If the day is foggy, you may perhaps enjoy just some panorama stretch, like this on the village of Marciana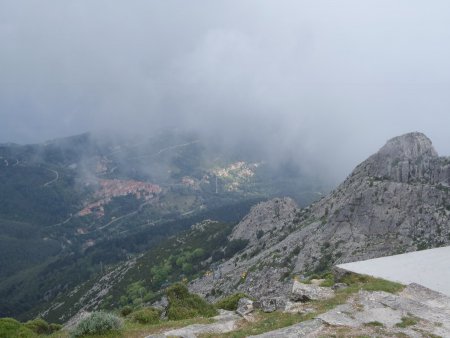 while if the sky is clear, the view can range over much of the island, and on the rest of the Tuscan Archipelago, Corsica and on the mainland.
---
Way down
From Le Filicaie, you take the path that initially descends to the northeast, with narrow turns, in a forest of conifers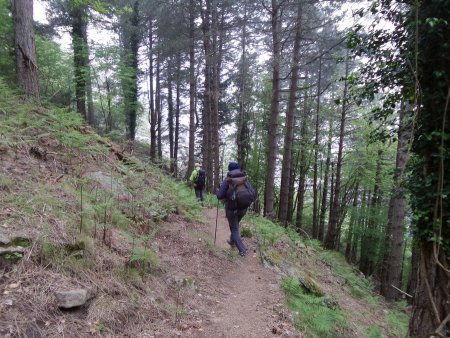 and then heads more directly to the east.
You go down for a long way, going straight at the various crossroads, until you reach and cross the Route 37, and then continue along the path again: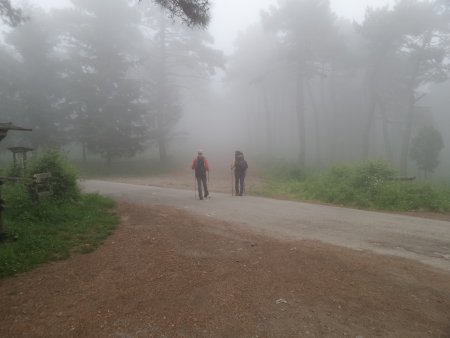 You proceed until you reach Monte Perone, shortly after turn right, and go down across the lush vegetation, on a path that now and then gets somewhat rough: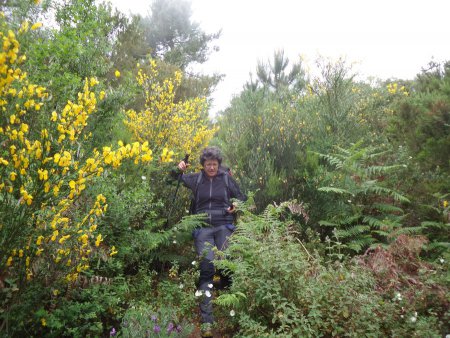 You pass a couple of forks continuing on the same path, then come to a junction where you turn left: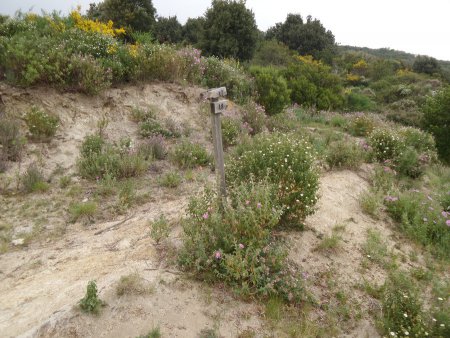 At the next fork you turn right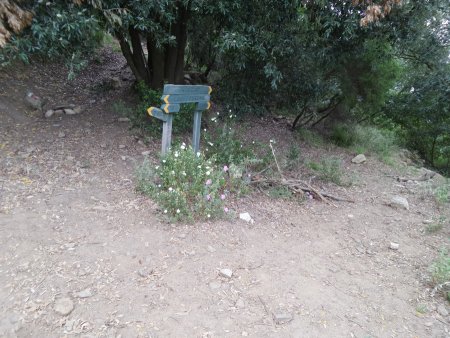 and at the next one you turn abruptly to the left: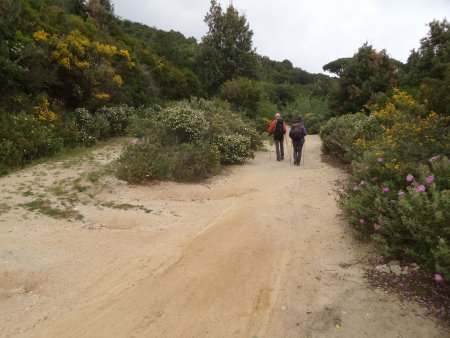 Here the trail is smooth and has little or no slope. At the next junction you continue straight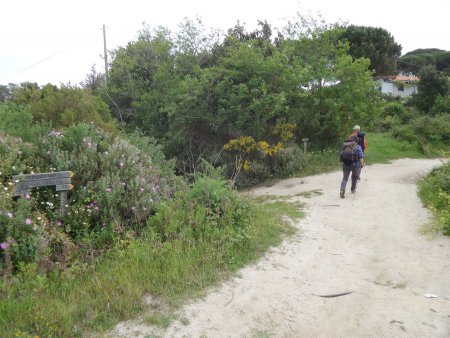 and at the next one you turn left: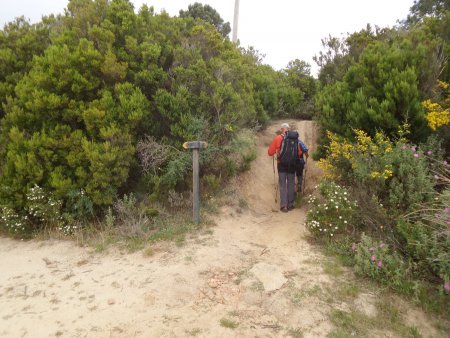 You walk for a long stretch in the bush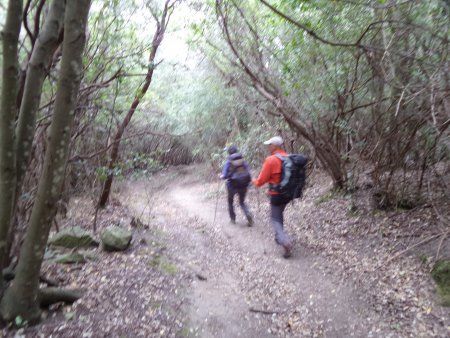 and finally get to Route 25: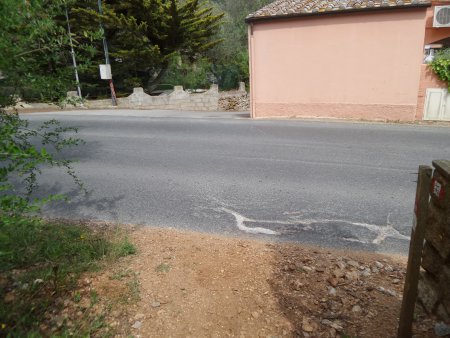 You walk some hundred meters along the road,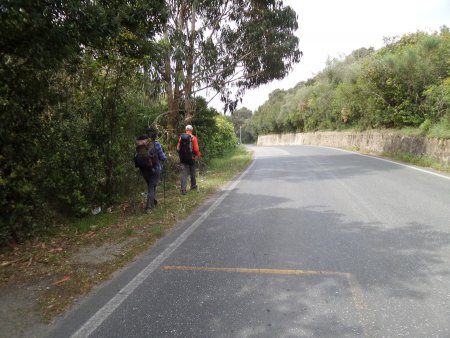 and reach your destination: