BALMENHORN
Schwarzhorn and Ludwigshöhe, from Punta Indren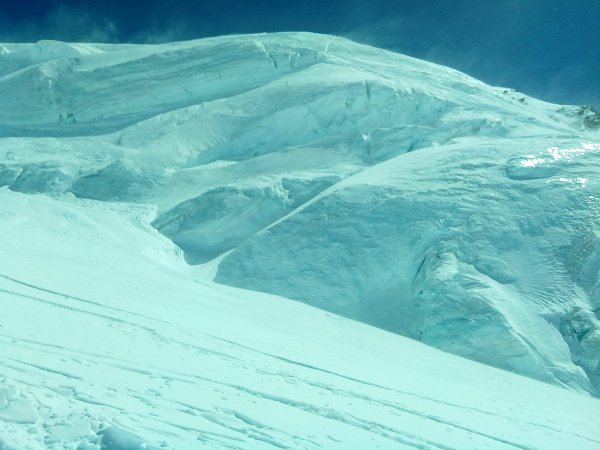 A great opportunity to concatenate three 4000 in the Monte Rosa, and enjoy extraordinary views. You can possibly exclude some of the peaks, depending on the possible fatigue or shortness of breath at high altitude.
If you decide to include the Schwarzhorn (the second peak in the map), crampons and ice ax are required, because there is a short slope, 45 degrees steep, often icy.
---
Access
You go through the Valley of Gressoney from Pont Saint Martin, in the Val d'Aosta, until you reach Staffal, where the road ends, and there are several cableways.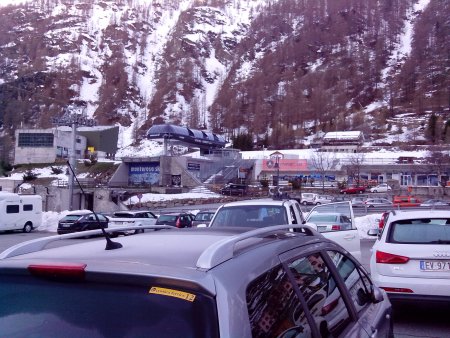 ---
Ascent
You take the cableway to Punta Indren (3275 m)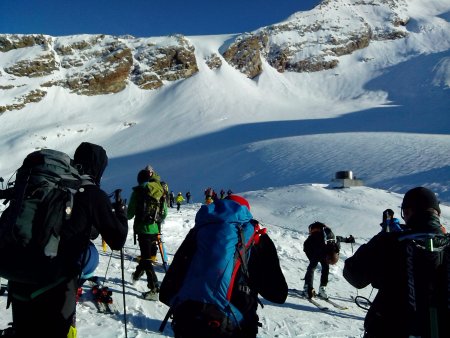 In front of you, at the exit of the cableway there is a rocky crag with two channels that allow to overcome it.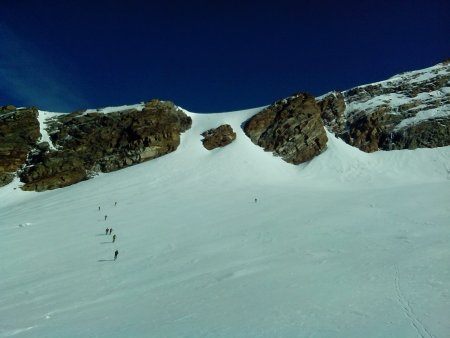 In the steepest part you take off your skis and proceed on foot, with or without crampons, depending on the conditions.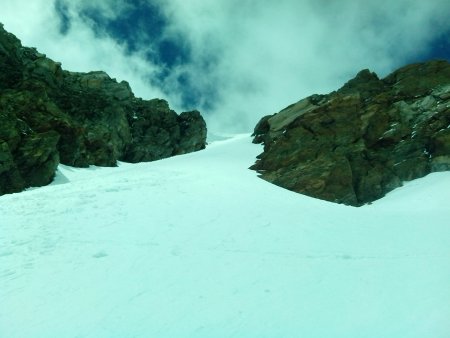 Through this direct route you will come out on a plateau, where on our left you can see the Refuge Gniffetti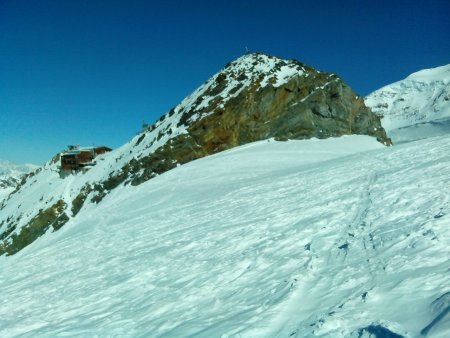 while in front of you the Piramide Vincent stands out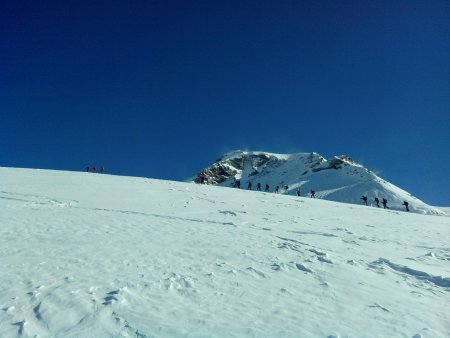 You continue in the indirection of the Col del Lys, leaving on your right the Pyramid; some rocky spurs appear to the right, before the Col del Lys: the Balmenhorn with the Bivouac Giordani, and the Schwarzhorn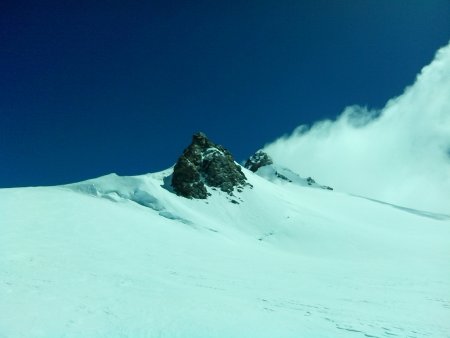 You can climb the Balmenhorn either on the right, or from the north (as shown in the map)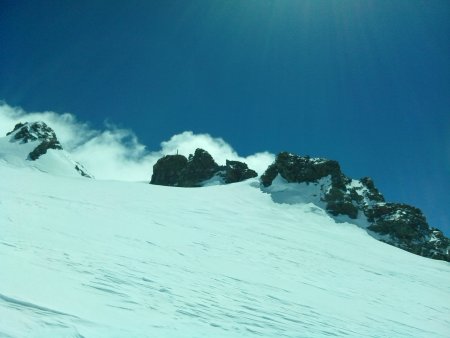 Here in the photo the north side and the profile of the Christ of the Peaks; on the left the Schwarzhorn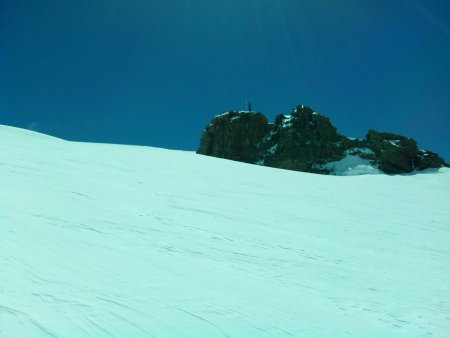 You reach the rocks and with the help of some brackets you get to the summit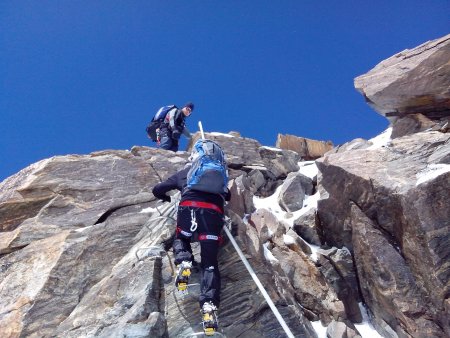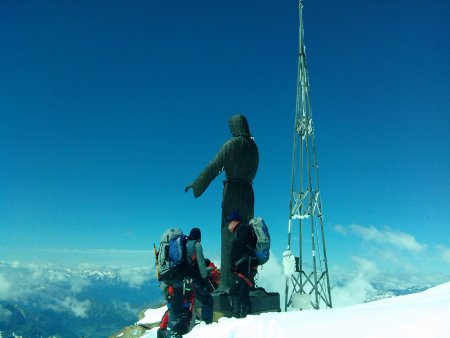 You go back down to the saddle between the Schwarzhorn and the Ludwigshohe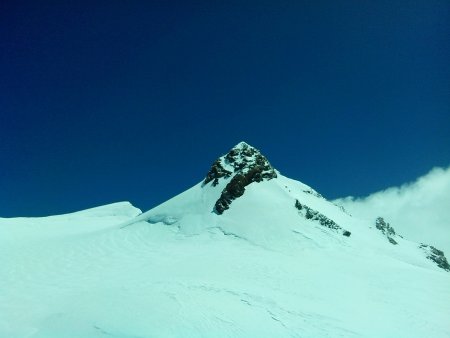 Here are the two mountains, seen from Punta Parrot:
You climb up the steep slope of the Schwarzhorn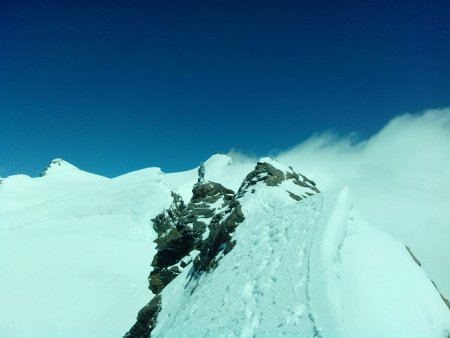 until you get to the statue of the Virgin Mary. Then you briefy descend, and climb up the Ludwigshohe; in the picture some nice Sicilians are with us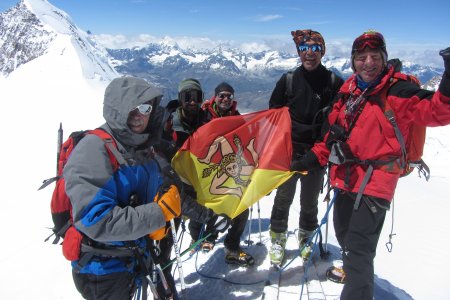 Behind you can see the eastern Lyskamm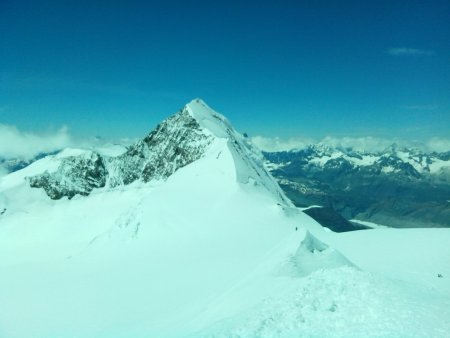 ---
Descent
You go back through the Lys glacier, along the forward route, between gorgeous seracs.