MONTE PIZZOCCOLO
via the South Ridge, from Ortello di Sotto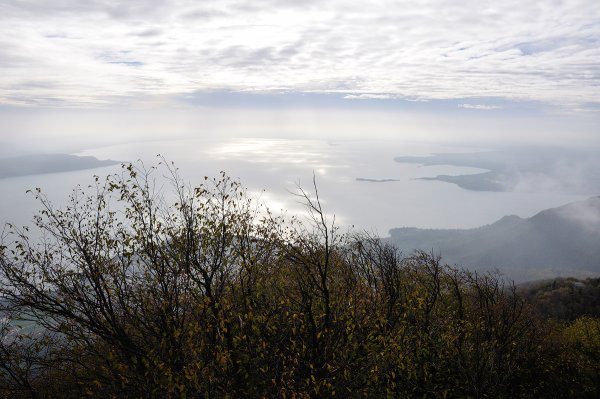 The Monte Pizzoccolo stands north of Toscolano Maderno on the Brescia side of Lake Garda. It is part of the Parco Alto Garda Bresciano.
From the top you can enjoy a splendid view from Lake Garda to the Ortler Group, from Monte Baldo to the Adamello.
---
Access
From the bridge of Toscolano Maderno you drive west, passing through Maclino and Vigole, until Sanico. From there you take left on a steep and bumpy road in the direction S. Urbano, up to location Ortello di Sotto, where you leave your car.
The parking lot is located near the signs for the path 27 and for the south and south-east ridges.
---
Route
From the car park you follow the dirt road to the right that leads into the forest, along the path 27: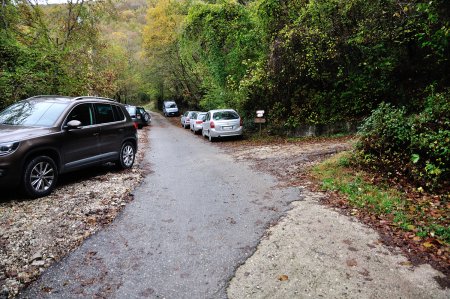 After passing a few forks, all well marked, the road continues up the hillside with views of the lake and the town below: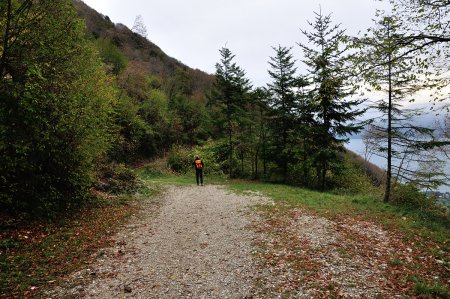 After about 1.5 Km the road ends and you continue on a path. You find indications for Monte Pizzoccolo and its ridge: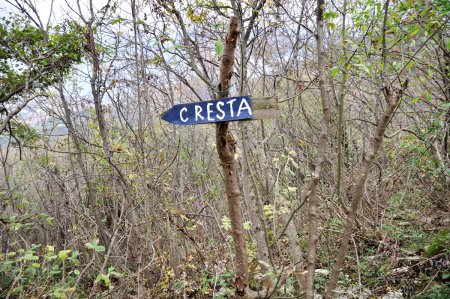 From the trail you can see the groove of the Valle delle Cartiere, where the Toscolano River flows: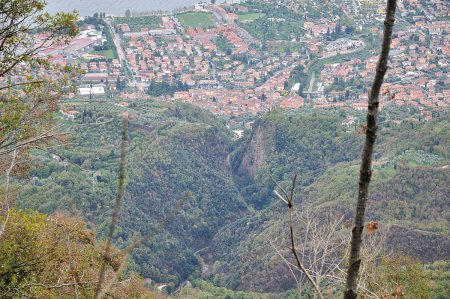 You will soon reach a bridge over the valley of Prera, ​​and a little further a wall with a pair of climbing routes. You continue along the path until you find a fork on the left. A sign shows you that you are at the beginning of the South Ridge: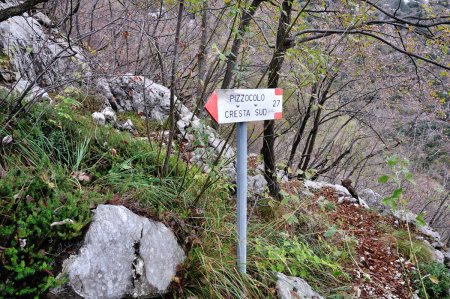 From here you have a beautiful view on Monte Castello di Gaino and its south ridge: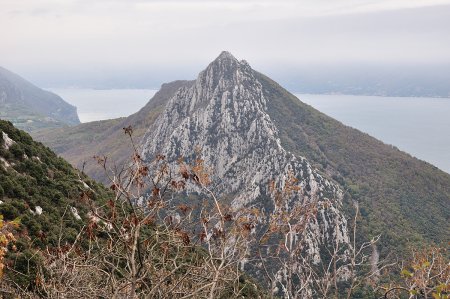 You climb the ridge, on alternating stretches of forest and easy rocks: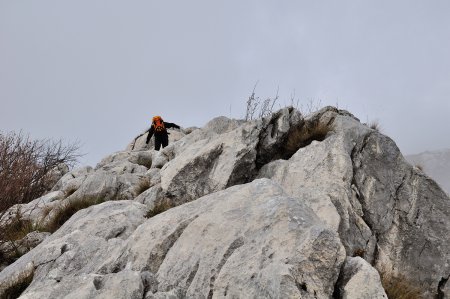 The ascent route, always rather steep, is well-marked by cairns and signs: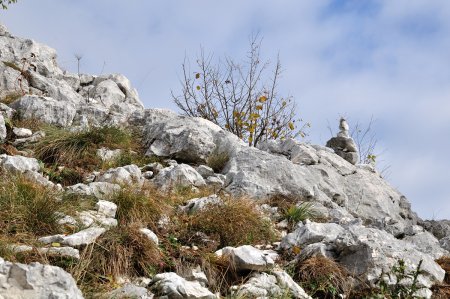 You continue the steep climb passing by an anemometer with mirrors. You are now nearing the top: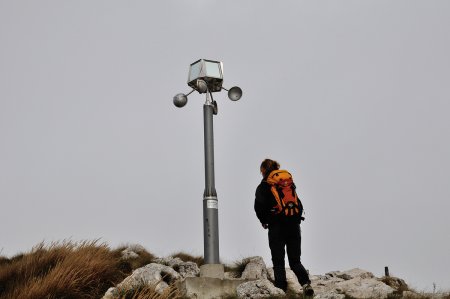 In fact, after a few minutes, you get to the summit: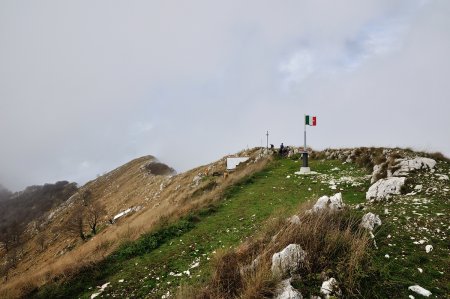 Just below the top of the mountain there is a church dedicated to the casualties of all wars: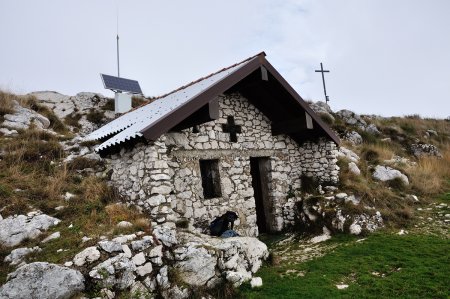 and a little further down the Bivouac Due Aceri, made ​​from an artifact of the 1915-18 war: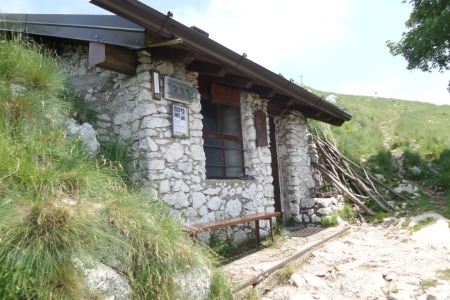 ---
Return
From the top you follow the track, trail No. 5, which goes down towards the west to a junction near the Sguàs dele Pìle: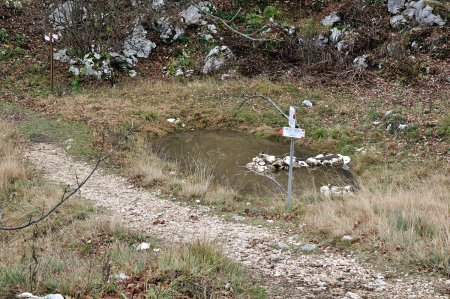 Take the left path No. 11, called Via di Valle, which drops steeply into the woods and leads to Malga Valle: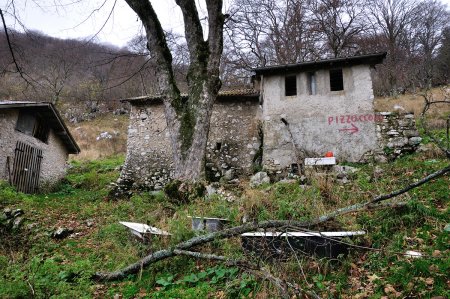 The path continues steeply downstream of the hut, until it joins a forest road, partly cemented: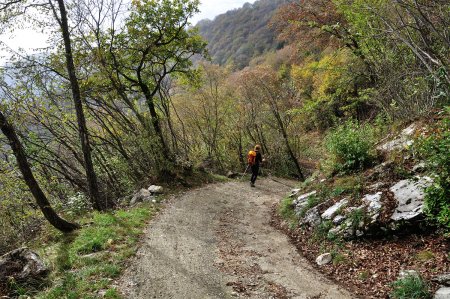 The road, always steep, continues for a good distance into the woods, until you cross the road to S. Urbano - Sanico, trail No. 6: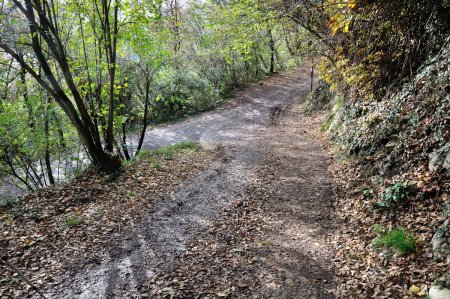 You follow it to the left and soon return to the parking lot.