ROSENGARTENSPITZE
Cima Catinaccio, by Via Normale, from Rifugio Santner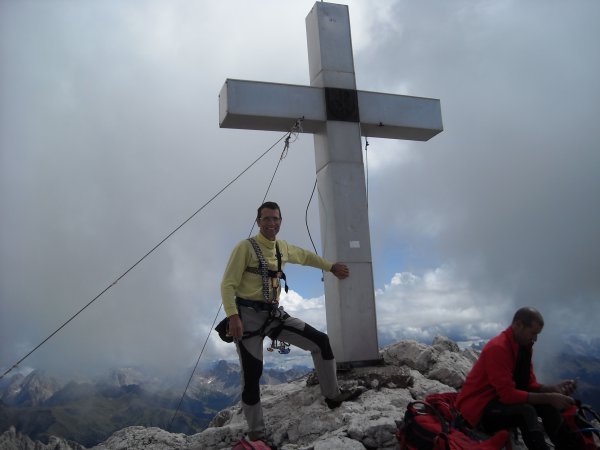 Frequented climbing route, good to go reach Rosengartenspitze / Cima Catinaccio on low difficulties and good rock good, although at some point rather smooth.
The views of the whole group and the surrounding mountain groups are remarkable. The stops are on cemented rings, protections are easy to fit thanks to tunnels, spikes and cracks.
Author's Note: I thank the friends and Flavio Armando, who appear in some photographs.
---
Approach
From Passo Santner or from Rifugio Santner, go up towards the visible chimney on the west side of Rosengartenspitze / Cima Catinaccio: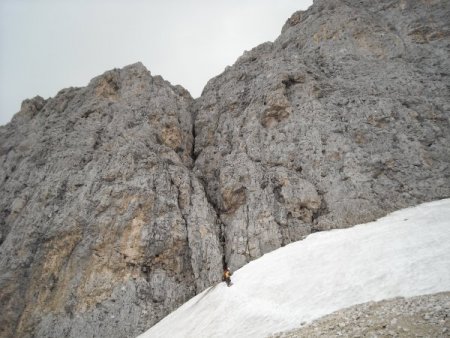 The starting point is located at the base of the cimney.
---
Route
L1: Climb up the chimney, passing a III+ step, until you reach a cemented ring; higher up on the right is a white plate: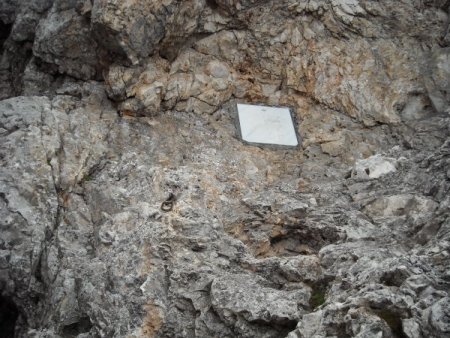 20 m, III, one step of III+.
L2: It continues along the chimney, until you find another cemented ring on the left, where the chimney is wider: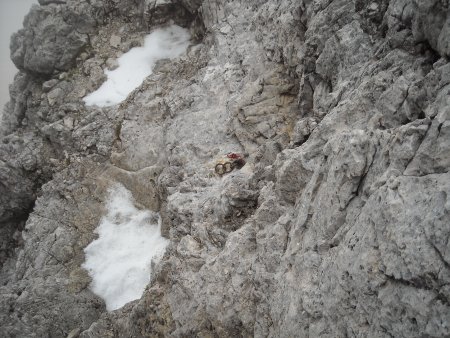 25 m, II.
L3: Moving away no more than ten meters to the left of the chimney, climb up, first slightly oblique to the left, and then gradually bending back towards the chimney. Before reaching it, you find another stop on a cemented ring.
35 m, II, III-.
L4: Reach back the chimney, then climb of its right side, until you reach the clevis where the chimney comes out on the ridge.
20 m, II.
Cresta: follow the ridge, along its edge, or somewhat left: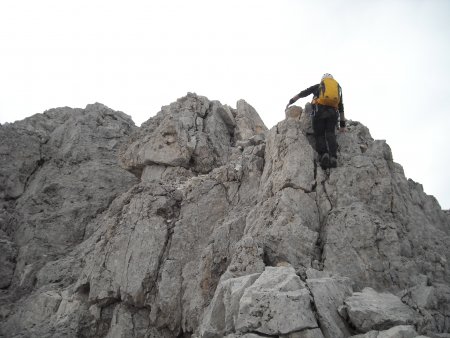 Finally, you reach the summit: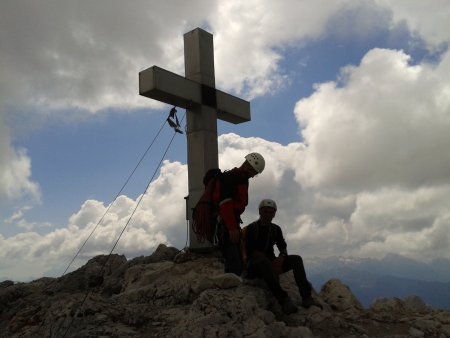 About 180 m, I, II, and a short stretch of III.
---
Return
Return to the clevis where is located the exit of Via Normale, with an optional intermediate double rope along the ridge, at the portion of III. Taking advantage of the double rope points present at the clevis and in the gully, go down with a number of double ropes between 2 and 5, depending on the length of the descents, and depending on how long you possibly de-climb.
You land upstream of the Refuge Santner, which can quickly be reached.