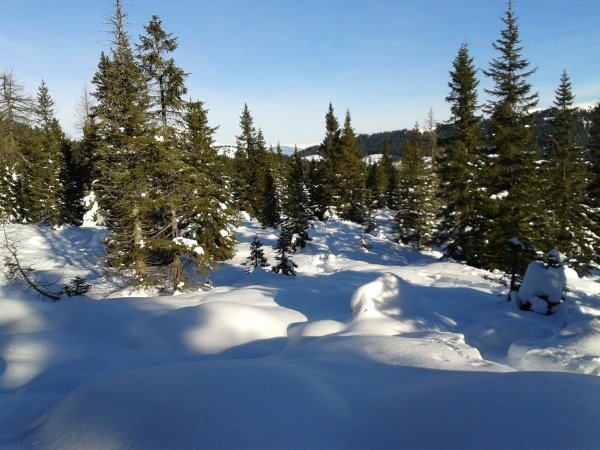 This winter trek, probably more pleasant if performed with snowshoes rather than on skis, is really nice, takes place on sweet slopes, with moderate altitude gain, and offers enchanting scenery and views.
The route that is described here round trips along two different paths, but you may also choose to go back and forth along one of the two, if you want to significantly reduce the length.
Author's Note: I thank my friends Roberto, Brian and Paolo, who shared with me this trek, and who appear in some photographs.
---
Access
Along the SP143 dei Francolini, about 1.6 km east of Passo Coe, on the north side of the road you can find a pitch to park.
---
Route
You take what is usually a beaten track that delves into the snowy clearing, initially heading south-west. At the beginning of it, a table recalls the massacre of Malga Zonta, 1944: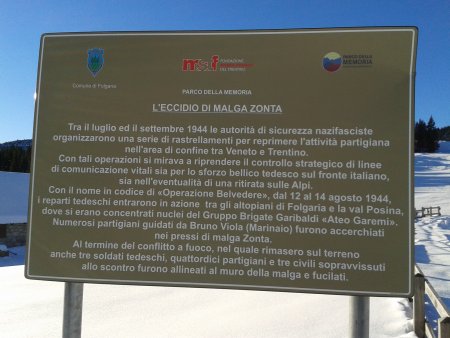 The track will then gradually bend in various directions (see map).
You go over the junction to Malga Melegna, walking good stretches along the side of the cross-country trails that are in the area, and others in forests of conifers: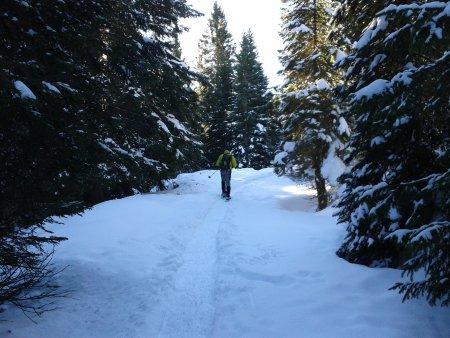 You reach the junction with the trail E5 or 124, where you turn left towards the south, continuing in that direction until you find the junction with trail 127, where you go straight on; not much farther you reach the summit cross: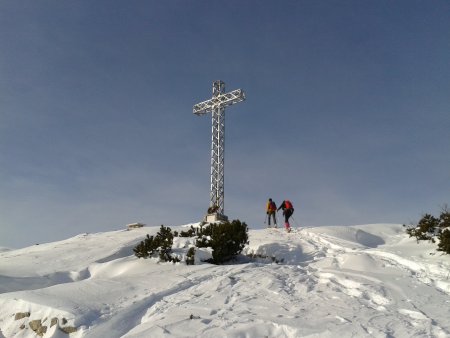 From the top you can enjoy an excellent view in all directions. Towards the north-west, for example, you can see, distant on the horizon, the Brenta Dolomites: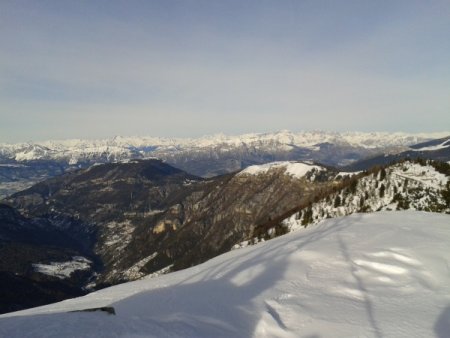 ---
Return
If you choose not to return along the path forward, you take a first section of route 124 anyway, until you find the junction with trail 127, where you turn left: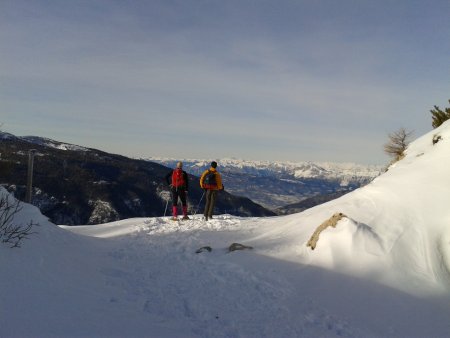 You continue for a long stretch along this path, slightly exposed on the east side, passing Mount Maronia, then finally bend to the east and then north-east, until you reach a large parking area, located just west of Passo Coe.
Walking about 1.8 km along the road you get back to the starting point.