REFUGE RE ALBERTO
and Refuge Santner, from Refuges Vajolet and Preuss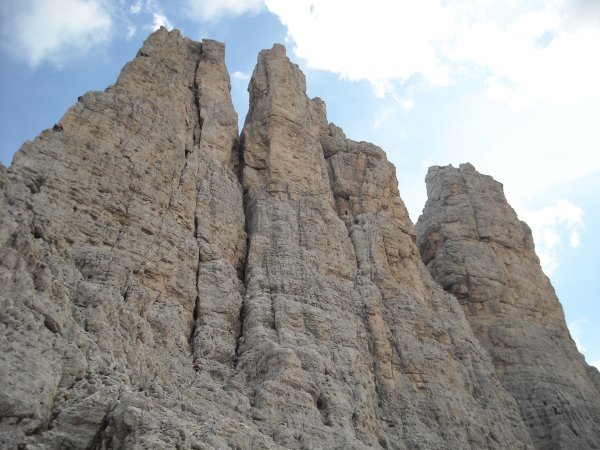 The climb to the refuges Re Alberto and Santner is a classic hike in the Catinaccio / Rosengarten group, a must for those who decide to visit this area and feels able to cope with the stretches of easy rocks, with the assistance of cables along the most challenging parts.
Throughout the journey, the eye can not prevent to be continuously drawn to the Vajolet Towers, a real symbol of these places, visible right from the beginning, when you leave the refuge Vajolet, and on and on, up to Rifugio Santner, from different perspectives, and various illuminations, depending on the position of the sun and the passing clouds.
---
Route
From the refuge Vajolet or Preuss, take the path to the north, and almost immediately, at a fork, turn left to path 542, which immediately begins to climb into a wide valley, between Punta Emma and Cima Catinaccio / Rosengartenspitze on one side, and the set of Vajolet Towers on the other.
The trail climbs partly on easy rocks, in some cases equipped with a cable:
Go up along the path, always well marked, and the Towers already appear in their radiant beauty viewed from below: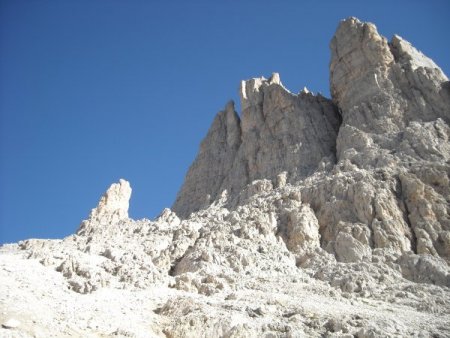 By continuing to go up, you get a sight of Rifugio Re Alberto, and as a background of it, the spiers of the Croda di Re Laurino / Laurinswand: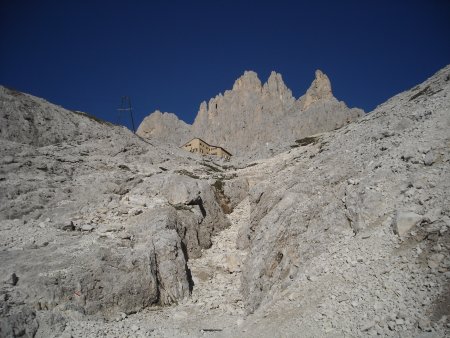 And soon you reach the refuge, after one hour, or one hour and a half, from the departure: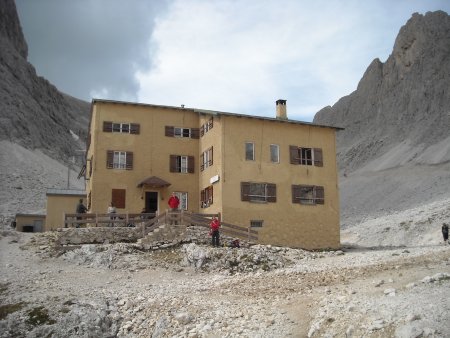 The view on the towers is now even more charming: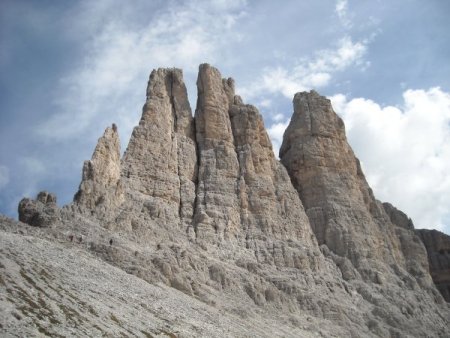 You continue now in the wide valley between Cima Catinaccio / Rosengartenspitze and the Croda di Re Laurino / Laurinswand, along an easy path, towards Rifugio Santner.
The refuge can be reached in about half an hour: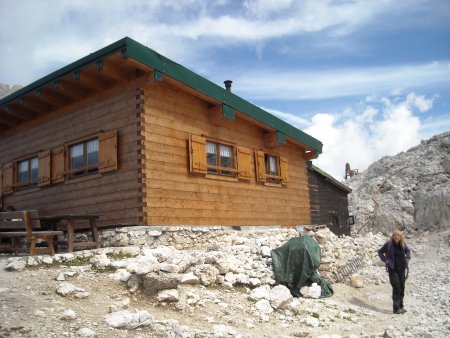 From here, the view on the previous shelter and the towers looks like the work of a particularly inspired painter: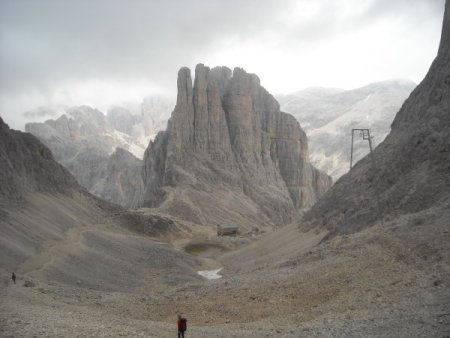 The view to the west, in the direction of Bolzano, is quite spectacular. While upstream you can see the west wall of Cima Catinaccio / Rosengartenspitze, which on this side presents its normal route of ascent: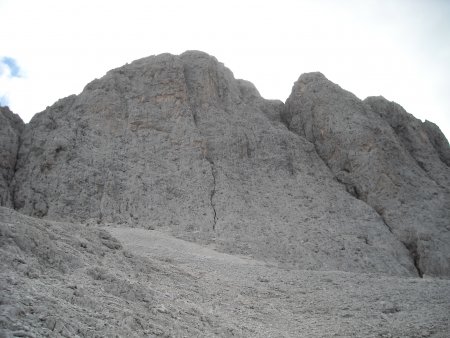 ---
Return
Same trail.