CIMA PRÀ DE LA BAZIVA
via Vajo Paradiso, from SP3
On the eastern side of Monte Baldo, there are limestone canyons, some of which deserve to be climbed, because they offer mostly good rock, for an easy and pleasant climbing. It is a rather direct way to reach the ridge trail, and some of the peaks of Monte Baldo.
Here is described the Vajo Paradiso, in conjunction with the ascent to Cima Prà de la Baziva. This summit is not marked on the majority of hiking maps, but for its elevation.
At the beginning of the season it's likely to find snow in the canyon.
Author's Note: I thank my friend Roberto, who shared this journey with me, and appears in several photographs.
---
Access
Along SP3, just north of the border between Trentino and Province of Verona, there are two places to park (see map).
---
Route
From the southern pitch, head north on the road, or from the northern pitch, head to the south, until you reach the entrance of the canyon, protected by a railing and three bars of iron: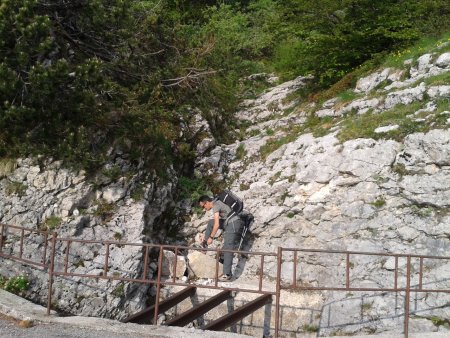 Climb the vajo, that in the initial part is somewhat full of debris, until reaching a first pair of inclined limestone walls, likely wet: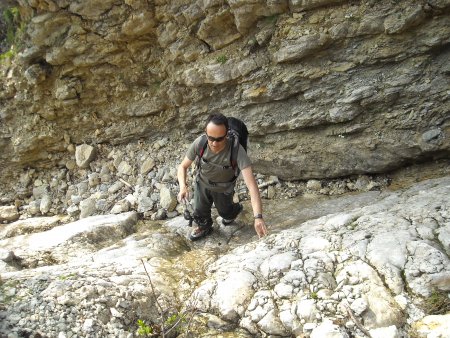 Later, at an altitude of about 1720 m, there is another little wall: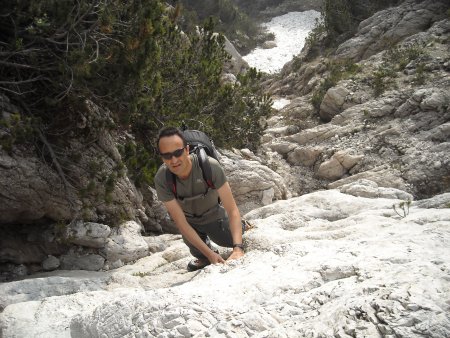 In correspondence with this, the vajo forks; you take the right branch.
Continue rising on a alternating ground, sometimes with debris, often rocky, with frequent chances of pleasant climbing: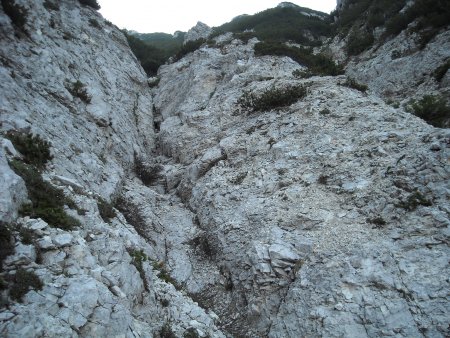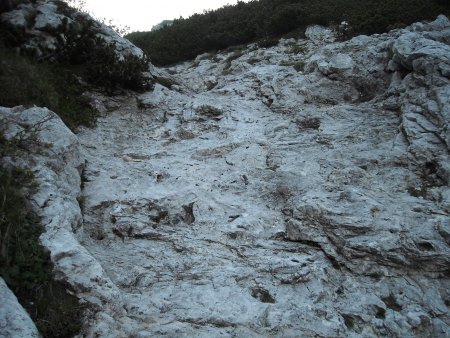 Attention should be paid to some other forks. Above an altitude about 1,870 m, take the left branch, above an altitude about 1940m, turn left again, and at an altitude of about 1980 m, almost out of the vajo, take on the right: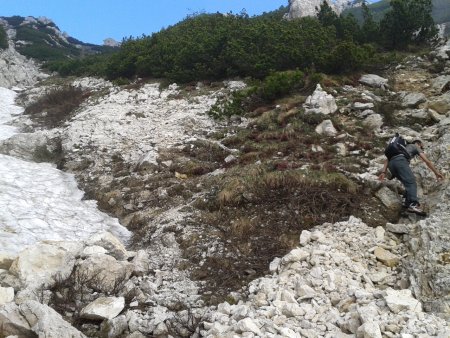 You reach very soon the ridge trail: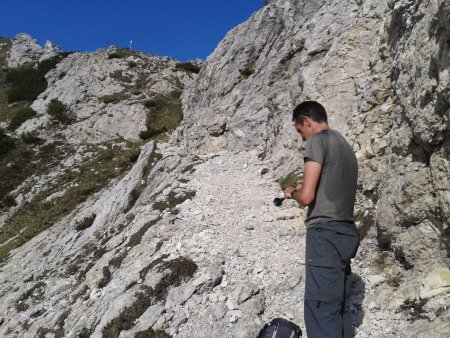 You take it, to the south. To get on top of Cima Prà de la Baziva, you can climb its ridge, after diverting from the ridge trail, and go up to the top (a few steps to climb), or continue on the ridge trail until you pass the top, and go up from the south (see map) .
The top is made of characteristic inclined layers of limestone: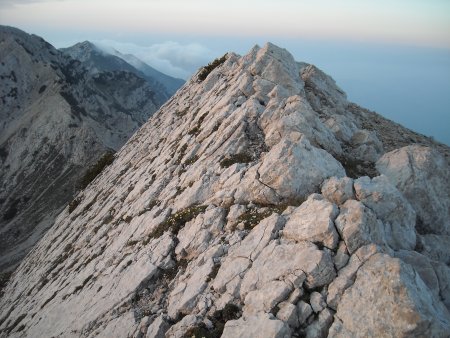 ---
Return
Get back to the ridge trail, follow it south to the junction with route 66, take it left, downhill. After losing a large part of the elevation, you reach the junction with trail 652, which branches off to the left, downhill. This brings you to the pitch on SP3 in less than half an hour.