CRISTO PENSANTE
from Località Pian dei Casoni
The Trekking of Cristo Pensante (Thinking Christ) is a hike oriented to reflection and soul-searching, helping you to relax and find the answers to the questions that you can ask yourself along the path that leads to the summit of Mount Castellazzo, 2333m, where there is a marble statue of the Cristo Pensante and an iron cross, surrounded by the Natural Park of Paneveggio in the Pale di San Martino. The Monte Castellazzo was an Italian stronghold during the first world war, in Austrian territory, and there are still clearly visible signs, such as the remains of trenches and tunnels.
---
Access
From Paneveggio to Passo Rolle, follow the signs to Passo Valles, after about 3 km on the right is the parking in Pian dei Casoni.
---
Route
Go up along the Val Venegia passing Malga Venegia and Malga Venegiota, until you reach Baita Segantini: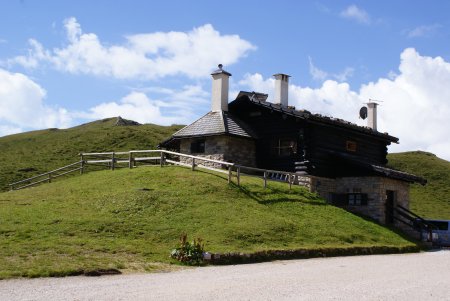 Here you find the signpost R01 Castellazzo Trekking del Cristo Pensante; you go around Monte Costazza where an easy trail leads you to the Castellazzo, enjoying the beautiful view of the valley and the mountain range from Cima Valles to Cimon della Pala, passing along the meadows: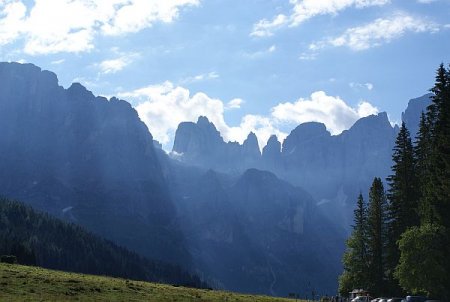 After going around Monte Costazza, you can see the Castellazzo: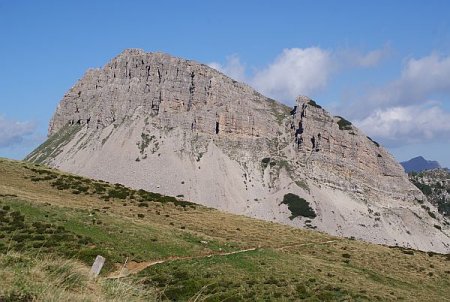 The climb to Castellazzo is a path that zigzags on a pretty steep slope, letting you reach in about 40 minutes the top where there is the statue of Christ and a cross of iron: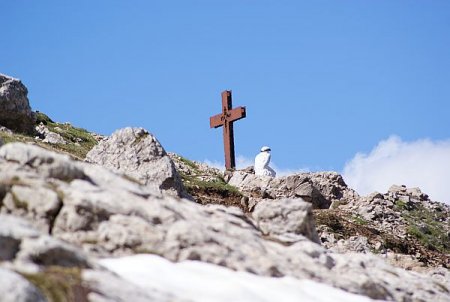 Very soon you reach the summit of Castellazzo, where you can enjoy a magnificent 360-degree panorama of the peaks of the Pale di San Martino, the Lagorai chain, the group Adamello Brenta; below, the Passo Rolle, the village of S. Martino di Castrozza, Lake Paneveggio: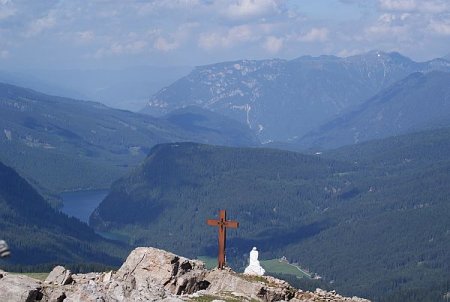 ---
Return
Just below the statue begins a path that in about 30 minutes allows you to reach hut Capanna Cervino: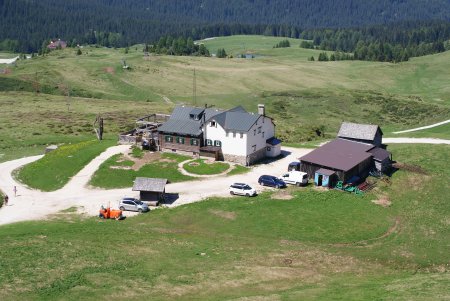 From here, continue on the dirt road up to a junction, then towards the Malga Juribello, still on a dirt road, to get there in about 30 minutes: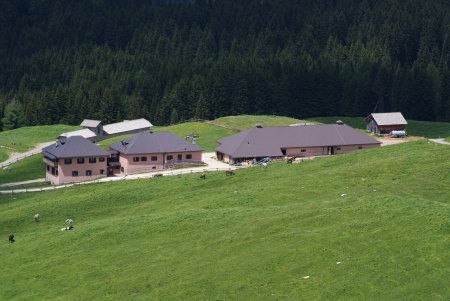 Just above the hut there is a deviation to Busa di San Giovanni, which directs you back to the Val Venegia in the direction of huts Venegiota and Venegia. Arriving at the hut there is a junction to return to the parking Pian dei Casoni on woodland trail, you can get there in about 30 minutes.