BIVACCO FIAMME GIALLE
by Valle dei Cantoni, from Rifugio Rosetta or Rifugio Colverde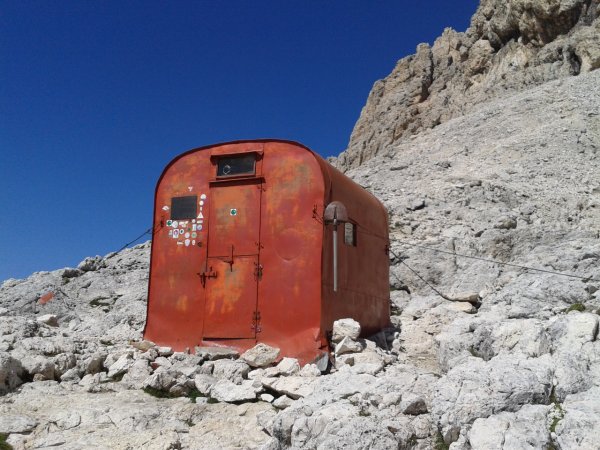 The Bivouac Fiamme Gialle is a unique entry point for the Cimon della Pala and the Cima della Vezzana, but it is also a worthy goal in itself.
You can enjoy excellent views from the side of the Refuge Rosetta and the Refuge Colverde; the environment in the long Valle dei Cantoni is also particularly fascinating, and the Passo del Travignolo and the bivouac itself are excellent vantage points too.
This is a normal hike, but one should not underestimate the frequent presence of snow, even in summer, and the altitude of the destination.
Author's Note: I thank my friend Daniele and my sons Andrea and Beatrice who have shared this journey with me, and who appear in some photographs.
---
Access
For the Colverde cableway you can use the parking lot adjacent to the lower station, near San Martino di Castrozza.
---
Route
From Rifugio Colverde, along path 701, go up in the direction of Rosetta, and at the junction with trail 20 go left, towards Rifugio Rosetta. Or you can use the Rosetta cableway: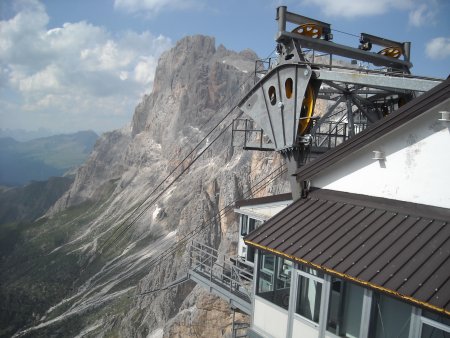 From Rifugio Rosetta, take the path 716 that ascends along the mountainside of Cima Corona. From there you can see looking back again La Rosetta: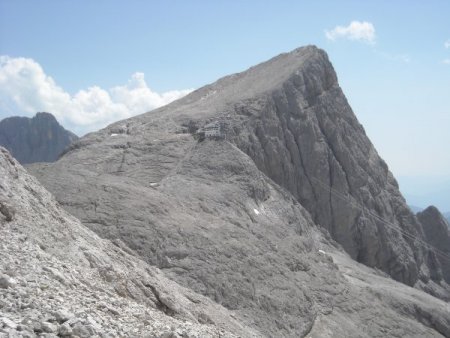 The trail then descends, then rises again towards Passo Bettega: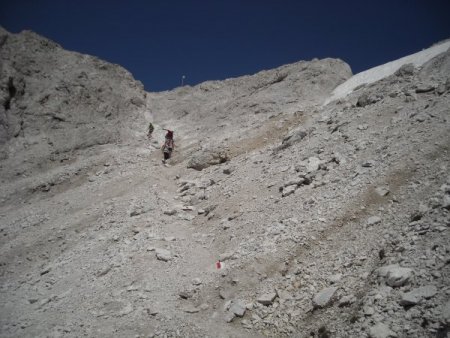 After crossing the pass, descend on the other side, in the direction of the Valle dei Cantoni, first quite gently, then more steeply and with some stretch secured by cables: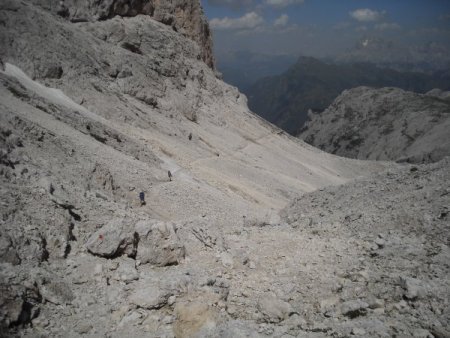 After arriving at the entrance of the long valley, you start to walk up with patience, on stretches of trail, some easy rocks, with occasional cables, and often long stretches of snowfield.
After about half of the climb, by looking back you will guess how long is the valley: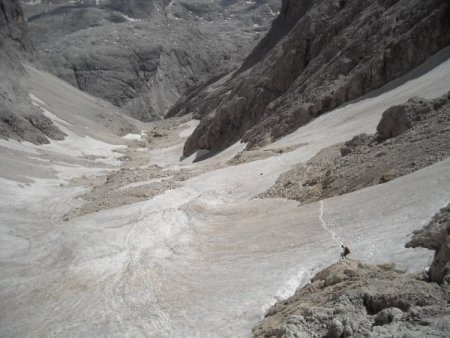 While looking up you can imagine how long there is still to go to reach the end of it: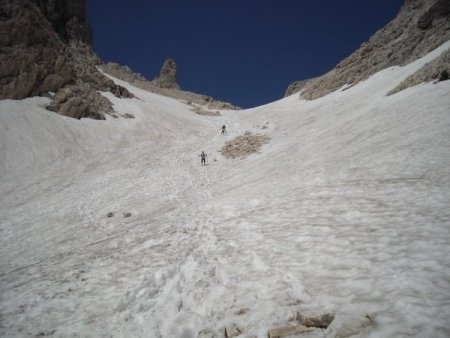 The Valle dei Cantoni ends with the arrival at the Passo del Travignolo, from where you can see a glimpse onto the Val Venegia and the Castellazzo: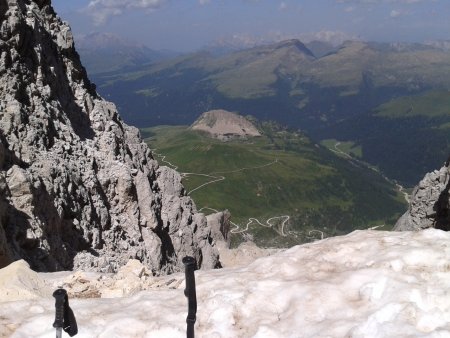 Now you cross and go up to the left, until you reach the bivouac, in a relatively short time.
---
Return
Same trail.