DOSS D'ABRAMO
by Ferrata Giulio Segata, from Le Viote
This ferrata is located on the north side of Doss d'Abramo, one of the three peaks of Monte Bondone. The ferrata itself is short, but of high difficulty, and is therefore not advisable to non-experts. Picturesque environment, great views, rather long approach.
---
Access
From Vason or Garniga, you reach Le Viote del Bondone, where there is a parking lot, from which it is already possible to see, from left to right, the Cima Verde, the Doss d'Abramo and Monte Cornetto: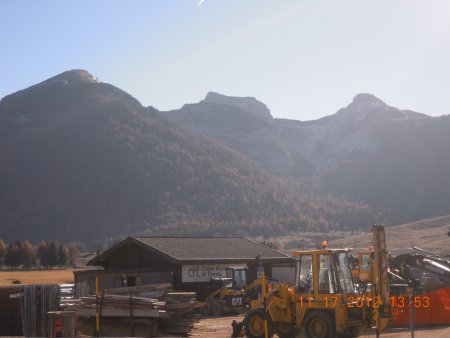 ---
Approach
From the parking take path 607, which runs along the bog. Soon you pass the Terrace of the Stars, with its characteristic metal dome: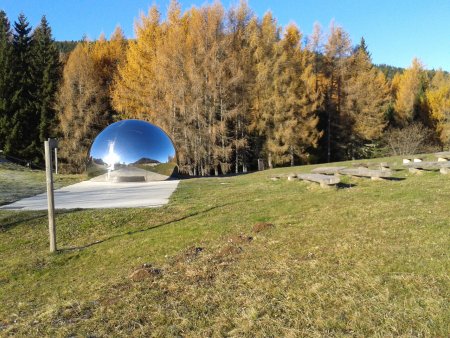 A little further on, you reach a clearing with directions, and go on, but when you pass by former Malga Fragari turn left, go up diagonally, leaving on your right the grove with a fence, and then go down until you reach the junction with the Val del Merlo, where you begin going up to Cima Verde, by path 636.
Follow the steep path up to the junction for Cima Verde, where it is not necessary to climb.
Continue along the same path along the ridge that connects Cima Verde with Doss d'Abramo, which is clearly visible from here: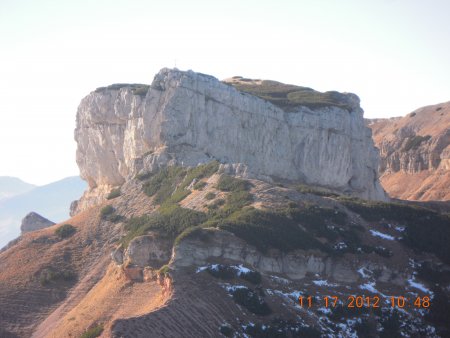 You finally reach the junction with trail 638, where you turn left, although you leave it shortly, heading towards the wall of Dos d'Abramo, quickly reaching the start of the ferrata, which begins in a natural vertical tunnel: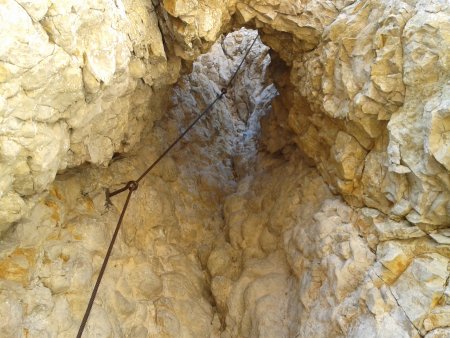 ---
Ferrata
After an initial short stretch, you will reach a ledge that leads right up to the attack of the second part, the most demanding, rising through a wide chimney that culminates in another vertical cave, larger than the previous one: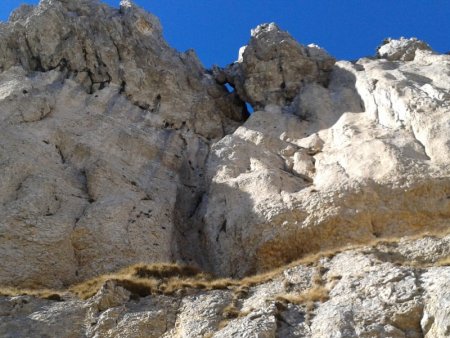 At the end of the climb you reach the summit plateau of Dos d'Abramo, and the exit pointof the cave looks like this: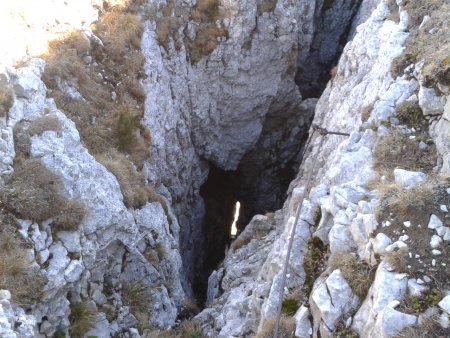 In a few steps you reach the cross: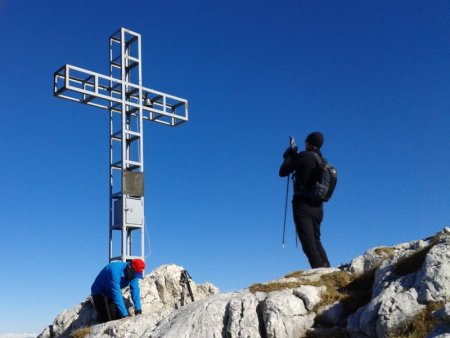 ---
Return
Go down the equipped trail leading back to the fork between paths 638 and 636: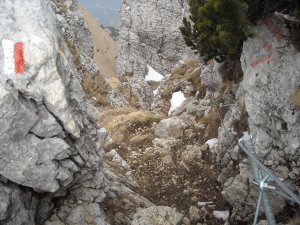 then go back on the same trail as for approach.